Somehow, 2005 in Lawrence seemed hectic.
Maybe that's true of every year, but this was the year we saw: two high-profile murder trials, a fire that killed three people, the Kansas University men's basketball team lost a first-round NCAA game for the first time in a generation, and KU found itself immersed in the battle over evolution in Kansas.
Here's a look back at the year.
January
The new year didn't start with a bang. It was more like a c-r-r-rack as thousands of tree limbs were downed by an ice storm that ravaged much of the state.
At the same time, Lawrence residents launched local fundraising campaigns to help victims of the Dec. 26, 2004, tsunami, while local school officials cheered a Kansas Supreme Court decision that ordered lawmakers to increase school spending.
On Jan. 6, Lawrence Education Assn. President Sam Rabiola confirmed more than $97,000 in union dues were missing. Later in the month, Rabiola's predecessor, Wayne Kruse, was charged with two counts of forgery and one count of theft.
Concerns over the effects of transients hanging out downtown prompted a group of business owners to suggest that the homeless submit to background checks before they could receive services.
Keri Austin-Janousek, an English teacher at Free State High School, was named USD 497 master teacher of the year on Jan. 14.
Lawrence hosted what Kansas Music Hall of Fame organizers hoped would be the first of many annual induction ceremonies. Initial inductees included Mike Finnigan, Brewer & Shipley, Kansas, The Blue Things, The Fabulous Flippers, The Red Dogs, Chesmen, Rodney and The Blazers, and Big Joe Turner.
Kansas Atty. Gen. Phill Kline begins investigating reports of mismanagement at Memorial Park Cemetery.
Kansas University Law School dean Steven McAllister and KU director of research Robert Barnhill announced plans to resign their positions. McAllister remained at KU and returned to teaching. Barnhill left for the University of Texas.
The filing deadline passed with only three candidates - Craig Grant, John Mitchell and incumbent Linda Robinson -filing for the three slots the Lawrence school board ballot.
First Baptist Church began the yearlong celebration of its 150th year in Lawrence.
ESPN broadcast its "College Game Day" show live from Allen Fieldhouse, before the Jayhawks' game with Texas.
February
The culture wars flared anew in Kansas in February with abortion and evolution taking center stage - and controversial comments from a former presidential candidate thrown in for good measure.
Abortion-rights activists were angered when it was revealed Kansas Atty. Gen. Phill Kline had launched an investigation of two abortion clinics, saying medical records there might provide proof of criminal underage sex.
The Kansas Board of Education said it would conduct a trial-like hearing pitting evolution versus its critics. Pro-evolution scientists said they would boycott the hearing, which they said would be used to justify science standards undermining evolution.
Howard Dean, chairman of the Democratic Party and a former presidential candidate, came to Lawrence on Feb. 25 for a rally and fundraiser. He drew anger from Republicans nationwide when he told people at the closed-door fundraiser that the debate between Democrats and Republicans "is a struggle between good and evil. And we're the good."
Trial began for Thomas Murray, the Kansas State University English professor accused of stabbing his ex-wife, Carmin Ross, to death in November 2003. The case was covered extensively by the media including the CBS News show "48 Hours."
A committee in the Kansas House considered legislation to outlaw Lawrence's "living wage" ordinance, which requires minimum pay for employees of companies receiving tax abatements. "We all know that Marxism is alive and well only in academia," said Rep. Mike Kiegerl, R-Olathe. The Legislature later dropped the issue.
Lawrence High School staged "The Laramie Project," a play about the death of Matthew Sheppard. Antigay pastor Rev. Fred Phelps of Topeka sent church members to protest.
Kansas University set a record for spring enrollment, the university announced, with 27,890 students enrolled on KU's campuses, up 0.4 percent from the previous year.
Brad Tate, the former Lawrence High School principal, was named Missouri Secondary Principal of the Year for his work at Park Hill South High School in Riverside, Mo. Tate received a similar award when he was in Kansas.
Officials announced a deal to let Wal-Mart expand its current store on South Iowa Street into a "Supercenter" that also offers groceries. Construction on the expanded store was still under way at year's end.
March

The murder trial of Kansas State University professor Thomas Murray continued. A jury in Douglas County District Court eventually convicted Murray of the beating and stabbing murder of his ex-wife Carmin D. Ross in November 2003 at her home north of Lawrence.
U.S. Supreme Court Associate Justice Ruth Bader-Ginsburg visited Kansas University's Law School.
Kansans for Fairness formed with Lawrence resident Bruce Ney as chairman to campaign against a state constitutional marriage amendment.
The Phi Kappa Theta fraternity chapter at KU was expelled after campus police one month earlier at a party cited nine people for alcohol violations and seized 16 kegs of beer.
Wayne Kruse, the former president of Lawrence's teachers union, faced forgery and theft charges after union officials reported more than $97,000 missing. The Lawrence Board of Education then reached a deal with Kruse and accepted his resignation.
KU basketball fans experienced a bizarre month as one KU fan went to jail after an argument with the University of Missouri Police Chief Jack Watring about a banner that poked fun at Missouri's new arena. Then, the Jayhawks unexpectedly lost to Bucknell in the NCAA Tournament's first round, the team's earliest exit since 1978.
With school finance a hot topic in Topeka, KU Chancellor Robert Hemenway and Gov. Sebelius blasted a House Republican plan that diverted funds from higher education to pay for public schools. In Lawrence, salary negotiations between teachers and the school district neared an impasse.
City officials defended the smoking ban in a legal filing that responded to a lawsuit filed by Lawrence bar owner Dennis Steffes, who said the ban was unconstitutional.
Outgoing State Education Commissioner Andy Tompkins announced he would accept a faculty position in KU's School of Education.
About 30 people attend a public forum where several people criticized the Lawrence Police Department. Two officers listened and took notes during the forum.
Conservative columnist and author Ann Coulter received ovations and heckles from a crowd during her lecture at the Lied Center.
April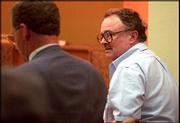 April began with news that the state was releasing Leroy Hendricks, a 70-year-old child sex offender, from a sex predator treatment center in Larned to live in Lawrence. Upset local residents launched petition drives to keep him out.
Incumbent Lawrence City Commission candidate David Schauner was targeted by mailings suggesting unfounded connections to domestic abuse. Schauner went on to win reelection. Also elected was incumbent Commissioner Sue Hack and Mike Amyx.
Lawrence resident Karen Johnson was relieved to learn that the city would allow her to keep her pet rooster. Since she kept the rooster in her house, it was considered to be in the same category as other indoor bird pets.
Local Catholics as well as people from other faiths prayed and mourned the death of Pope John Paul II.
Some LakeView Manor nursing home patients decided to defy the city's public smoking ban by lighting up anyway. The city ordinance didn't prevent people from smoking in their own homes. LakeView residents said they were only enjoying smoking in their homes.
City Commissioner Mike Rundle ended his term as mayor by publicly announcing that he is gay. Fellow commissioners and onlookers at the Commission meeting applauded him.
An Arkansas historical researcher said he believed William Quantrill, who led a band of Missouri border ruffians in the 1863 attack on Lawrence, lived a long life after the Civil War after staging his own death. The researcher, David Kennedy, said Quantrill rode with the James gang after the war.
The Alferd Packer Memorial String Band made its annual tax night performance at the downtown Lawrence Post Office, but this year's party for last-minute income tax filers had a new twist. Covering the event was CBS News Sunday Morning show and reporter Bill Geist.
Lecompton residents successfully opposed a proposal for a rock quarry near their town. They cheered when N.R. Hamm Quarry Inc. pulled a request for a quarry permit.
May
The conclusion of a high profile murder case, a now infamous fight involving KU basketball player J.R. Giddens and hearings on evolution that attracted national attention marked the month of May.
Kansas State Professor Thomas E. Murray was sentenced in Douglas County District Court to life in prison for the murder of his ex-wife. Later in the month, the story of Murray's crime and conviction was told to a national television audience on CBS' 48 Hours.
News of KU basketball player J.R. Giddens being injured in a fight at the Moon Bar began to surface and captivate basketball fans. Giddens was slashed in the calf with a knife in the altercation. Giddens later in the year pleaded no contest to one count of battery for his involvement in the fight. He was sentenced to one year of supervised probation. He's serving that sentence in New Mexico, where he is now playing basketball after leaving the KU program.
Hearings by the Kansas Board of Education regarding evolution ended with a bang after Topeka attorney Pedro Irigonegaray refused to be cross-examined after delivering a two-hour verbal attack blasting critics of evolution.
Also in May, Baker President Dan Lambert announced he would retire after the 2005-2006 school year.
The Eldridge Hotel reopened in downtown Lawrence after a four-month renovation by its new owners.
Plans were unveiled for an $8 million expansion of Allen Fieldhouse to house the Booth Family Hall of Athletics.
Approximately 4,000 students walked down the Hill as part of KU's commencement ceremonies. City crews took over maintenance of Memorial Park Cemetery after a Douglas County District Court Judge ruled that the cemetery's owners had failed to meet state laws regarding perpetual care of the facility.
June
After a landmark ruling by the Kansas Supreme Court ordered the state to add $285 million to school funding, Gov. Kathleen Sebelius called lawmakers back for a special session to address the issue.
Leavenworth native Wayne Simien, a graduating Kansas University men's basketball player, made waves in the basketball world by being picked in the first round of the NBA draft by the Miami Heat.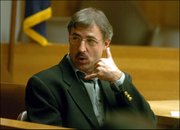 Martin K. Miller, a carpenter and former Christian-school trustee, was convicted at a jury trial of first-degree murder for the 2004 death of his wife, Mary.
Mayor Boog Highberger stated he believed putting people in jail for using marijuana was a "misuse of our resources" -- a statement that foreshadowed the upcoming effort to pass a city marijuana ordinance.
Thousands of music lovers flocked to Clinton State Park for the second annual Wakarusa Music & Camping Festival. After the festival ended, sheriff's deputies spent a day scouring the grounds looking for a camper believed to be missing but who had simply left the festival without telling his friends.
Convicted child molester Leroy Hendricks, one of the first people to be released from the state's sexual-predator program, moved briefly to a rural area outside Lawrence in Leavenworth County. But within a day of the move, the county filed a petition alleging the home violated zoning laws, and Hendricks was forced to return to a state hospital. A judge later sided with the county, but the case remains on appeal.
Evolution-related skirmishes continued throughout the month, including a controversy about a newsletter by State Board of Education member Connie Morris that called evolution an "age-old fairy tale."
The former home of writer William S. Burroughs on Learnard Avenue was added to Lawrence's register of historic places.
First Baptist Church celebrated its 150th anniversary.
July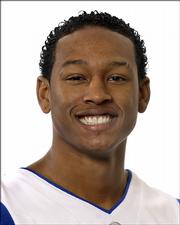 The month began with the July 1 news that KU basketball player J.R. Giddens was off the team. Giddens left the Jayhawks for New Mexico after being stabbed in a May brawl outside a local bar.
Meanwhile, state lawmakers continued to wrangle over how to respond to a Kansas Supreme Court order for additional money for public schools.
The justices had ordered legislators to provide an additional $143 million no later than July 1. That deadline came and went unmet. The court rejected a request from Atty. Gen. Phill Kline to give the Legislature more time. Finally, with the court threatening to close schools, on July 6, the Legislature broke a deadlock and approved a $148.4 million funding increase that would keep schools - threatened with closure - open. But the issue was far from over.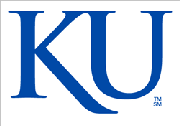 Kansas University unveiled the new font, Trajan, for its logo. The decision came after more than a month of gathering feedback on four finalist designs, both in meetings and online. Those finalists were chosen with help from LandreyMorrow, a Portland, Ore., firm that was to be paid $88,900 for its assistance.
The popular Wal-Mart Community Recycling Center closed temporarily, forcing residents to find other places for recyclables as they awaited re-opening following construction on the site.
In Leavenworth, the fight continued over where to allow convicted child molester Leroy Hendricks to live. A district court judge heard arguments as some Lawrence residents watched with the hope Hendricks wouldn't end up living in Lawrence.
Mid-month, Kansas University revealed detailed reports of various violations of NCAA rules. The athletic department was placed on a two-year probation, and there were other sanctions.
That same day, the sixth Harry Potter book was released, causing bedlam at area bookstores where Potter fans of all ages lined up and waited late into the night for the midnight release of "Harry Potter and the Half-Blood Prince."
Lawrence Fire Chief Jim McSwain announced his upcoming retirement from the department he led for 27 years.
Martin K. Miller, the former Christian-school leader convicted of strangling his wife, was sentenced to life in prison.
Around month's end, one of the stranger stories of the year emerged when police returned to Lawrence resident Ezekiel Rubottom the severed foot he had had amputated and was keeping in a five-gallon bucket of formaldehyde. Police had seized the foot days earlier thinking it could have been evidence of a crime, but returned it after verifying Rubottom was the rightful owner.
"It's all good," Rubottom told the Journal-World. "Now I've got my foot back. That's all I wanted."
August
With more than 9 inches of rain having fallen at Lawrence Municipal Airport, the month ended up the second-wettest August on record.
By the end of the month, Lawrence motorists would be paying more than $3 a gallon for gasoline, as supply concerns mounted following Hurricane Katrina's destruction along the Gulf Coast.
In basketball news, heralded high school hoops star Brandon Rush enrolled at KU, ending weeks of speculation - and bolstering a KU roster that had been cut with the departure of J.R. Giddens. Less than a week later, Giddens would be charged with misdemeanor battery and disorderly conduct in connection with a May 19 brawl outside the Moon Bar.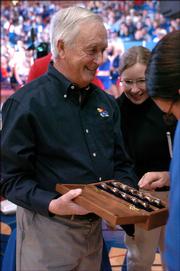 Max Falkenstien, the legendary voice of the Jayhawks, announced he would retire at the end of the basketball season, his 60th season calling sports action at KU. The 81-year-old - already inducted in the Naismith Basketball Hall of Fame and the College Football Hall of Fame - indicated he would keep a hand in the games he loved so much. "I will not dry up and fade away," Falkenstien promised. "I'll still be around, I'm sure."
Also announcing her departure was Lynn Parman, vice president for economic development at the Lawrence Chamber of Commerce. She said she would be leaving by the end of the year for a job at the Kansas City Area Development Council in Kansas City, Mo.
In court news, Jason Dillon pleaded not guilty to a charge of first-degree murder in the death of 3-year-old Sydni Perkins, his girlfriend's daughter.
The Kansas Court of Appeals ruled that Douglas County District Judge Paula Martin had been too lenient when she sentenced two men for their roles in the rape of a 13-year-old girl in June 2003, and ordered her to impose new sentences. Martin had sentenced William N. Haney and Brian K. Ussery to five years' probation, each with underlying prison sentences of 30 months; typically, a conviction on such a rape would carry a sentence of about 13 years.
September
David Shulenburger, KU's provost for 13 years, announced plans to step down at the end of the school year and return to teaching.
KU Chancellor Robert Hemenway made a public statement in support of the teaching of evolution, in the midst of public debate over the issue.
KU received a $10 million pledge from Tom Kivisto, a former basketball player, for a new football facility at Memorial Stadium.
A gasoline tank burst to the surface of the parking lot at Miller Mart, 3300 W. Sixth St., causing the station and the Mexican restaurant inside it to close.
KU reported a record fall enrollment with 29,624 students. Minority student enrollment also was on the rise.
U.S. Sen. Sam Brownback, R-Kan., was testing the presidential waters in Iowa, a state with a key caucus.
More than 140 people from around the world became U.S. citizens during a ceremony at the Dole Institute of Politics.
The family of Eric Wellhausen, a KU student who died after falling from a window at Oliver Hall, sued the university, claiming it created dangerous conditions that led to his death.
Former Westar Energy officials David Wittig and Douglas Lake were convicted of looting the company. They were ordered to return millions of dollars.
The Kansas quarter, featuring a buffalo and sunflower, made its first appearance in Lawrence.
Sigma Nu fraternity at KU was forced to close after members were found to have violated hazing policies.
KU decided on a new logo - one that has the letters "KU," with the "K" swooping under the "U." Unfortunately, it looked similar to the logo at Kutztown University in Pennsylvania.
Wayne Kruse, former teacher and president of the Lawrence Education Assn., pleaded guilty to raiding the organization's coffers of $95,000.
While some Lawrence residents were heading to the Gulf Coast to help with relief efforts after Hurricane Katrina, some hurricane victims sought refuge in the Lawrence area.
October
In October, Lawrence suffered a tragic fire, hosted a world-renowned writer, watched the State Board of Education wrangle and saw Kansas University take on mighty Kutztown.
Heavy, localized downpours brought quick-striking floods Oct. 2 in northeast Kansas that forced the evacuations of homes, businesses and even a nursing home. Gov. Kathleen Sebelius declared an emergency in Jefferson, Jackson, Leavenworth and Shawnee counties. No deaths or injuries were reported, but numerous country roads and bridges were damaged.
Wayne Kruse, the former head of the Lawrence teachers union, was sentenced Oct. 3 to two years' probation for embezzling $100,000 in union dues.
The State Board of Education shocked political and education circles by picking Bob Corkins of Lawrence as the new education commissioner Oct. 4. Before his appointment, Corkins worked as a fierce critic of public schools. His first major initiative after taking the $140,000 commissioner's job was to push for private school vouchers and expansion of charter schools.
Author Salman Rushdie, on tour with a new book entitled "Shalimar the Clown," bemoaned the movement in Kansas against evolution in talks he gave on the KU campus Oct. 6-7.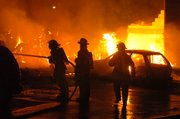 In the early morning hours of Oct. 7, residents of the Boardwalk Apartments, 500 block of Fireside Drive, awoke to what turned out to be one of the worst fires in city history. Within hours the 76-unit, block-long complex was destroyed. Dead in the blaze were KU student Nicole Bingham, social worker Yolanda Riddle and electrician Jose Gonzalez. Dozens were injured. Law authorities arrested and charged James Allen Rose, 20, a resident of the complex, who they allege deliberately set the fire.
Color KU's new logo red. After paying $88,890 to a consultant to develop the logo, KU officials learned that Kutztown University, a 9,800-student school in Pennsylvania, had a similarly designed logo.
Five-month-old Risha Lafferty died from "traumatic injuries" Oct. 14 and her father, Jay Daniel Decker, 26, was charged in connection with the death.
Lucas Frantz, a 2002 graduate of Tonganoxie High School who joined the Army, was killed Oct. 18 his 22nd birthday by a sniper while on patrol in Mosul, Iraq. About 400 people attended a memorial service for him in Tonganoxie.
Longtime teacher and high school coach Jack L. Schreiner was suspended with pay after an allegation of window peeping at the home of a 47-year-old woman. He later resigned from the district.
Johnson County Dist. Atty. Paul Morrison switched to the Democratic Party to try to set up a matchup against Atty. Gen. Phill Kline, a Republican, in the 2006 general election.
November
November ushered in new, controversial science standards for Kansas, an embattled Kansas University professor sparking a firestorm of controversy for challenging those standards, and guilty pleas for a former politician caught spending money he wasn't allowed to spend.
Early in the month, criticism of evolution was officially embedded into Kansas public school science standards. The State Board of Education voted 6-4 along conservative-moderate lines, as many expected they would, authorizing science teachers to install curriculum critical of evolution.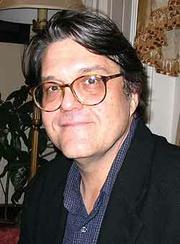 Kansas University professor Paul Mirecki pledged to offer a class teaching intelligent design as "mythology." The class itself created a furor among design proponents, but when e-mails Mirecki had written surfaced showing the professor's disdain for Kansas conservatives who were advocating intelligent design, a firestorm erupted.
The Douglas County Sheriff's Department began investigating Mirecki's claim he was beaten by two men because of the controversy surrounding the class.
Elsewhere, federal investigators began probing the work of former Lawrence attorney Scott J. Bloch, alleging that Bloch was involved in widespread misconduct in his role as head of the U.S. Office of Special Counsel. The investigators received complaints that Bloch punished whistle-blowers who complained about his handling of the office, among other allegations.
Also, former 3rd Congressional District candidate Adam Taff pleaded guilty in district court to two counts.
Taff pleaded guilty to wire fraud and violating the Federal Elections Campaign Act, charges that could garner up to 35 years in prison. Taff used $300,000 in campaign funds to cover a check for a fraudulent down payment on a house.
In sports, The Kansas Jayhawks football team qualified for their second bowl game in three seasons by defeating Iowa State in the last conference game of the year.
The team eventually accepted an invitation to play in the Fort Worth Bowl.
Also, linebacker Nick Reid won the Big 12 Defensive Player of the Year award.
December
The controversy over Kansas University's intelligent design class seemed to come to an end at the beginning of the month, when Professor Paul Mirecki pulled the class in the face of controversy. Days later, though, Mirecki claimed to have been attacked by two men angry over the controversy. He resigned his position as department chair as the controversy continued to draw national attention.
The Kansas University football team learned it would face Houston in the Fort Worth Bowl. The Jayhawks won the game, cementing their first winning season - at 7-5 - since 1995.
Danni Boatwright, a Tonganoxie native, won CBS' "Survivor" competition, along with a million dollars. Despite her newfound fame and riches, she said she planned to remain in northeast Kansas.
Packerware announced it was interested in bringing a $58 million expansion of its operations to Lawrence, but it asked for a 90 percent tax abatement over 10 years in return for the project. Mayor Boog Highberger said he was dubious about granting such a large abatement.
The Kansas Corporation Commission announced it would allow Westar to raise electric rates by $3 million. The average monthly bill for Lawrence residents will go up about $3 a month starting in February.
Copyright 2018 The Lawrence Journal-World. All rights reserved. This material may not be published, broadcast, rewritten or redistributed. We strive to uphold our values for every story published.