Charlie, a 6-month-old bantam rooster, often helps Lawrence resident Karon Johnson get through bad days.
And there have been more than a few bad days. About a year and a half ago, because of a serious heart condition, one of her legs was amputated. Shortly thereafter, doctors discovered Johnson had breast cancer and she underwent a mastectomy.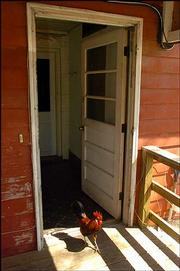 Charlie, the colorfully plumed pet, brightens her dark days by reminding her of her childhood on a Missouri chicken farm.
"I had quite a bit of depression coming out of all of this, but Charlie has had a soothing effect on me," Johnson said. "He's kind of like a dog that gets you up every morning and nudges you along."
But city animal regulations almost forced Johnson to figure out how to get by without her companion. Charlie was a rooster on the lam Tuesday. As near as Johnson can tell, he slipped out of the house when her boyfriend, Callen Sharp, left for work.
He was spotted wandering near New Hampshire Street; an animal control officer captured the bird. Through a little investigation in the neighborhood, the officer learned the bird belonged to Johnson. The city official returned it to Johnson but said the city's animal control ordinance likely meant the bird could not stay.
Johnson sent Charlie to a friend's rural Lawrence farm, while city officials sorted out the regulations. Friday, City Manager Mike Wildgen delivered Johnson the news that she had hoped for: Charlie could stay.
"It is a bird in the house, and we just view it as a bird in the house," Wildgen said. "It's not unlike people having a parrot in their house. We haven't had a complaint on it either.
The city's code isn't entirely clear on whether roosters can be kept by residents. The code specifically allows birds that are not protected by federal or state law to be kept as pets. But the code also places restrictions on the ability of people to own "domestic fowl."
Wildgen said city officials determined this situation met the requirements of the code.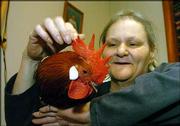 "The key is that it is kept in the house almost all the time, it is domesticated and it is not being raised for the purposes of fighting or to be eaten," Wildgen said.
Johnson said the decision took a load off of her mind.
"Charlie is really like the baby that we can't have," Johnson said.
Johnson said the rooster, a gift from her brother, had been with her since the chicken was 10 days old. Charlie's tame enough that he lets strangers pet him, and frequently can be found eating leftovers -- when they suit him. Johnson said he'd only eat noodles if they're hot and mashed potatoes if they're buttered. There's one dish that he doesn't like at all.
"When we start to fry chicken, he gets mad and goes all the way into the back of his cage," Johnson said.
Copyright 2018 The Lawrence Journal-World. All rights reserved. This material may not be published, broadcast, rewritten or redistributed. We strive to uphold our values for every story published.