Kansas University Chancellor Robert Hemenway said he never worries about having a messy desk, because he knows that Provost David Shulenburger's is just as cluttered.
Shulenburger, the university's academic chief for nearly 13 years, announced Wednesday he'll be cleaning out his desk when he steps down in June. He will stay on campus as a faculty member in the School of Business.
Shulenburger said the university is in a good place and it's not a bad time to leave. He's outlasted the average provost, he said.
"It's just a job that demands a lot of attention and has the tendency to wear people down," Shulenburger said. "I'd rather leave the job before I'm worn down."
The search for a successor will begin soon. Hemenway said he will have a committee selected within 10 days. Then the university will advertise the position. Officials hope to hire a replacement by July 1.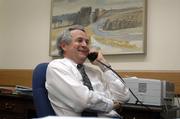 Hemenway said there will be true competition for the post from internal and external candidates.
"I know that we'll be able to move ahead with a new provost, but I don't know that it'll be the same amount of fun that Dave and I have had together," Hemenway said.
Shulenburger, who also has been executive vice chancellor since 2002, has a salary of $216,520. What he'll earn in a faculty position has not been set, KU spokeswoman Lynn Bretz said.
A North Carolina native, Shulenburger received an undergraduate degree from Lenoir-Rhyne College in Hickory, N.C. He received master's and doctoral degrees from the University of Illinois.
Shulenburger, a labor economist, joined KU in 1974 as an assistant professor of business following stints as a faculty member at Clemson University and as an economist for the U.S. Department of Labor. He was named vice chancellor for academic affairs in 1993 and became provost after a reorganization in 1996.
Shulenburger recently celebrated his 60th birthday.
But he said that wasn't what spurred him to make the announcement. He said he's been thinking about this for a long time and made the decision in the spring. He looks forward to a calmer routine.
"It's about smelling the roses at 10 miles an hour rather than 70 miles an hour," he said.
'Hidden little secret'
Rep. Kevin Yoder, R-Overland Park, was KU's student body president in 1998-99.
Yoder said students can feel like their voices aren't heard and their views not respected, but Shulenburger listened. Yoder said Shulenburger gave honest answers.
But, Yoder said, Shulenburger wasn't on the front lines. He was more of an internal player.
"He's kind of KU's hidden little secret," Yoder said. "He was the one who got the job done. If you wanted to cut to the chase, you called on the provost."
Shulenburger was the lead person for the university's tuition enhancement plan, which uses revenue from tuition increases for new faculty positions, technology improvements and other needs. He worked to increase student diversity on campus and added focus on student advising and the development of students' writing skills. KU opened the Freshman-Sophomore Advising Center and the KU Writing Center.
Shulenburger said there was once a time when a new assistant professor would be told by colleagues that teaching wasn't important.
"You can't run a public university with that attitude," he said.
He said he has worked to change that mindset and create a balance between teaching and research while also raising the bar for each.
As a manager, he doesn't micromanage, several who work with him said.
"He gives you the boundaries : and then says, 'Go ahead, do what you need to do within that zone,'" said Barbara Romzek, interim dean of the College of Liberal Arts and Sciences.
Kim Wilcox, provost at Michigan State University and former dean of the College of Liberal Arts and Sciences, said Shulenburger trusts others to do their work.
"He's not going to dominate things," Wilcox said. "He was a listener."
English professor Jim Carothers said Shulenburger has a rare combination of intelligence, integrity, a strong work ethic and a sense of humor.
"You don't find that combination except in the very best," Carothers said. "He's always taken the work seriously, but he's never taken himself too seriously. That's a rare attitude."
The future
Shulenburger said he will not play any direct role in the search for a successor. But he may encourage colleagues to apply, and he'll answer questions about the post and meet with candidates, he said.
After he is gone, he said, a new provost will face the ongoing challenge of finding good people to fill high-level positions.
"The university is such a complex animal that no one can fully understand it," he said. "So you need very high-level people in those positions that you can trust."
He said he hopes to work with faculty and student leaders on a new tuition program and to aid in the filling of several top openings.
And at the end of June, he will clean out his desk.
"But," he said with a smile, "it won't stay clean long. I promise."
Copyright 2018 The Lawrence Journal-World. All rights reserved. This material may not be published, broadcast, rewritten or redistributed. We strive to uphold our values for every story published.