Federal officials are investigating allegations of widespread misconduct by the U.S. Office of Special Counsel, an agency led by former Lawrence lawyer Scott J. Bloch.
"We've likened Mr. Bloch's performance to the town arsonist being appointed fire chief," said Jeff Ruch, executive director of Public Employees for Environmental Responsibility, one of three federal employee-based organizations that filed a formal complaint against Bloch in March.
The U.S. Office of Personnel Management last month notified some of the complainants that an investigation of Bloch's performance was under way.
The complainants' charges include allegations of cronyism, illegal gag orders, targeting gay employees for out-of-state transfers, and the office's getting involved in a dispute over creationism at the Smithsonian Institution.
Bloch's "office issued findings in the case even though it admitted it had no standing," Ruch said.
Bloch's office is responsible for ensuring the rights of federal employees and protecting whistle-blowers.
"We don't know of a single incident in which Mr. Bloch's office has gone to bat for a whistle-blower," Ruch said, noting that Bloch last year ordered an across-the-board dismissal of more than 1,000 whistle-blower complaints.
Some of these complaints, Ruch said, involved pre-Katrina reports of misconduct within the U.S. Corps of Engineers and the Federal Emergency Management Agency.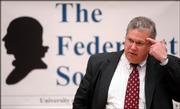 Cathy Deeds, a spokeswoman for the Office of Special Counsel, denied Ruch's allegation, noting the House Subcommittee on the Federal Workforce in May praised Bloch for reducing a long-standing backlog of cases.
In an e-mail to the Journal-World, Deeds cited a 14-page report in which Bloch claimed he had inherited a cumbersome system for processing complaints.
The new system, Bloch argued in the report, is considerably more efficient. The report did not explain why complaints were dismissed.
"Unfortunately, there are some outside interest groups and critics that are unhappy with OSC's management or legal policies," Deed wrote in her e-mail. "They have made baseless charges against the Special Counsel."
Joining Public Employees for Environmental Responsibility in the complaint:
¢ Government Accountability Project, an association that promotes free speech for federal employees.
¢ Project on Government Oversight, an organization that investigates corruption within the federal government.
¢ An unnamed group of Office of Special Counsel employees.
¢ Human Rights Campaign, the nation's largest civil-rights organization for homosexuals.
For several months, gay-rights advocates have criticized Bloch for refusing to investigate federal employees' discrimination complaints that involve sexual orientation.
Bloch has argued that while federal law prohibits employment discrimination based on race, religion, sex, age, national origin, disability and political affiliation, it does not apply to sexual orientation.
"Our job is to enforce the law. We have done so, including any claims of sexual orientation discrimination," Deeds wrote. "These (complaints) have been reviewed and investigated according to the law."
In an earlier interview with the Journal-World, Patrick Guerriero, president of Log Cabin Republicans, a national association representing the party's gay and lesbian members, called Bloch a "rogue official."
He accused Bloch of overturning "policies that have been in place since the Nixon administration."
Bloch graduated from Kansas University with a bachelor's degree in 1980 and a law degree in 1986. He practiced law at Stevens & Brand for 15 years before accepting a position with the U.S. Department of Justice in 2001.
Copyright 2018 The Lawrence Journal-World. All rights reserved. This material may not be published, broadcast, rewritten or redistributed. We strive to uphold our values for every story published.