Jerry Neverve hadn't stepped foot inside the Eldridge Hotel for 13 years, four months and a few days -- ever since he closed the Kansas Sports Bar and Grill in the basement, unable to work out a new lease with the hotel's owners.
But Wednesday afternoon, he joined more than 100 guests dropping by for the hotel's grand reopening under new ownership, with new management and a fresh approach seeking to pump new life into downtown Lawrence.
"It's going to add a new element, and that's good," said Neverve, owner of the Red Lyon Tavern a few blocks down Massachusetts Street. "It'll be a fun place to go. With this opening up ... it'll bring more people downtown -- more traffic, more things to do, another selection of places to go."
Such optimism proved effusive Wednesday, as dozens of invited guests filed through the landmark hotel at 701 Mass. for its grand reopening. Some sampled food and sipped drinks as the hotel's restaurant and bar prepare for public openings today.
By late afternoon, people crowded into the lobby for the official reopening and several paying guests already had checked into their suites for the day and night.
All 48 hotel suites, and virtually everything else in the five-story hotel, have been renovated, revamped and replaced as part of a four-month makeover that cost more than $2 million.
The project came after a group of investors bought the Eldridge for $2.92 million at bankruptcy auction late last year, and attention was turned to breathing new life into the building that was built beginning in 1925. It is the fourth hotel to occupy the site since the 1850s.
New owners include Bobby Douglass, a Chicago businessman and former Kansas University and NFL quarterback; Mitchell and Susan Chaney, of Brownsville, Texas, who married after meeting as employees of the hotel in the 1970s; and families and business associates of longtime Lawrence businesses Gene Fritzel Construction Co. Inc. and Joel Fritzel Construction.
Joel Fritzel, one of the owners, said he was pleased to be able to invest and upgrade a community icon that he had enjoyed for years: first as a child, attending banquets with his father in the Crystal Ballroom and later as lead singer for The Rainmakers, playing for fraternities and sorority crowds in the Big Six Room.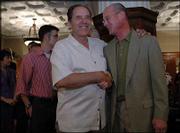 Now, as an owner, he's looking forward to a even longer, more direct connection for years to come.
"We'd like to keep it in the family for hundreds of years," Joel Fritzel said. "That'd be great. If the other owners want to sell, we'll buy them out. It's that important."
The hotel re-enters the Lawrence hospitality market on a roll. Six guests called Wednesday to reserve rooms for the night, and dozens more have been lining up suites for future dates, said Randy English, general manager.
With a rack rate of $120 to $130 weekdays, $135 to $145 weekends and $170 to $180 for special dates -- such as KU graduation -- the Eldridge commands top dollar in town: about double the average rack rate for the city's estimated 1,000 hotel rooms.
The Eldridge reopens the same time the Lawrence Holidome, hampered by mounting debts, is poised to lose its affiliation with Holiday Inn. Other hotels already have lost their affiliations with other national brands, unable to make required investments.
The Eldridge rises above such challenges, said Judy Billings, senior vice president for the Lawrence Chamber of Commerce and Lawrence Convention & Visitors Bureau. The property has a fresh look, historic ambiance, downtown location and a full-service restaurant and bar to set it apart.
"It's going to pay off," Billings said. "People today want quality and they're willing to pay for that."
Copyright 2018 The Lawrence Journal-World. All rights reserved. This material may not be published, broadcast, rewritten or redistributed. We strive to uphold our values for every story published.