A font meant to mimic lettering on an ancient Roman column will represent Kansas University in the future, officials announced Tuesday.
Officials said the letters "KU" in Trajan typeface, one of four finalists announced in May, will serve as a university-wide logo.
"It means different things to different people," said David Johnston, KU's director of marketing. "Some people could get that sense of the hill with the elongated 'K.' Some people saw it as taking a step forward. However it is interpreted, it is a strong, confident symbol."
The logo will be incorporated with the words "The University of Kansas" to become the university's official "signature." The symbols are expected to be used on all university materials, including stationery, signs, business cards, cars and athletic jerseys.
The Trajan font was created in 1989 by a designer wanting to replicate the Trajan column, a landmark in Rome.
The decision came after more than a month of gathering feedback on the four finalist designs, both in meetings and online. Those finalists were chosen with help from LandreyMorrow, a Portland, Ore., firm that will be paid $88,900 for its assistance.
A report prepared by the Institute for Educational Research and Public Service at the KU School of Education said online data showed many respondents felt the Trajan design was "classic" and "traditional" compared with its counterparts. Five percent to 10 percent of those making comments felt the design was too boring or plain.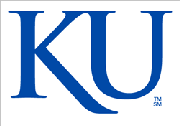 Comments were already flowing on the Journal-World's Web site shortly after a story announcing the selection was posted Tuesday. Most of them criticized the choice.
"Are they kidding?" one person wrote. "The Trajan design is a tragic mistake. I can't believe the university blew so much time, money, and effort on this project, especially in light of the choice."
The logo announcement is part of the university's integrated marketing campaign, which aims to standardize visual elements used by units on campus. Earlier this year, the university announced it would use crimson and royal blue as its official colors, phasing out navy blue used by some units on campus.
"No one is saying if we all use one blue, we'll have winning sports teams," said Paul Carttar, executive vice chancellor for external affairs. "No one is saying if we have a consistent visual identity, we'll have a great university. But we want to be in a position where the different parts reinforce the whole."
Johnston said plans call for KU officials to work with LandreyMorrow to develop a set of standards for when to use the new logo and when to use the university seal and Jayhawk. He said nothing about the Jayhawk would change, though the university seal likely will be reserved only for formal university functions.
Johnston said he wanted the symbols to be used consistently over time.
"We don't intend to do this (redesign the logo again) in the next 10 to 20 years," Johnston said, "so we want to make sure that it lasts."
Copyright 2018 The Lawrence Journal-World. All rights reserved. This material may not be published, broadcast, rewritten or redistributed. We strive to uphold our values for every story published.