Rebecca Hall lives at Lawrence's LakeView Manor nursing home and takes her comforts where she can find them.
For the 38-year-old woman who is battling multiple sclerosis, that means taking a drag on a cigarette when she pleases.
Like thousands of smokers across Lawrence, Hall's ability to light up anytime she desires has been limited by the city's ban on indoor public smoking. But Hall said there's one big difference between her plight and that of a typical smoker -- city officials are telling her she can't smoke inside her home.
"If I'm going to be here, if I'm going to call this place home, then I should have the right to smoke a cigarette," Hall said.
Maybe, maybe not. City commissioners ultimately will have to decide. Charles Pomeroy, an owner of the nursing home at 3015 W. 31st St., in early March asked city commissioners to allow nursing homes to operate specially ventilated smoking rooms. Commissioners took no action but said they would study the request. Monday, commissioners said coming up with a decision would not be easy. They haven't scheduled the issue for a vote yet.
"This is a real tricky one for me," City Commissioner Boog Highberger said. "I'm not interested in telling people what they can do in their homes, but this is also an institution, and other people in that institution deserve protection."
Residents want it
Hall said the decision shouldn't be a tough one for commissioners to make. She said common sense should tell them not to ask elderly and disabled people to step outside to smoke, especially during the winter.
"They'll be going outside and will be more prone to catch a cold and bring that back in here," Hall said. "There will be more deaths because of that than smoking."
Plus, Hall said allowing smoking for the eight residents who smoke -- out of 35 total -- was often the compassionate thing to do.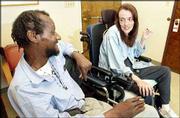 "I'm going through the most physically trying time I have ever been through," Hall said. "A cigarette is the only way to relieve my stress.
"I've already had a lot of my freedoms taken away from me. I don't want another one taken away from me."
Even proponents of the smoking ban, which became effective July 1, are split on the issue. Dave Kingsley, who was chairman of the city task force that recommended the ban, said commissioners ought to give the nursing home's request strong consideration -- as long as the facility's owners do not require employees to enter the specially ventilated room.
"We have to be reasonable," Kingsley said.
But Kathy Bruner, an organizer of Clean Air Lawrence, said she had concerns with creating an exception for nursing homes because it seemed unlikely nursing home operators could guarantee their employees wouldn't be required to enter the room.
Staff administrators at the facility support the request. They said the room was well-sealed and ventilated so that other residents or employees weren't exposed to the smoke.
"I think it is their right to be able to smoke," said Jenny Wold, social services director at the facility. "It improves their quality of life. It is important to them."
And, Wold said, it would be extremely difficult for many of the residents to quit smoking because they've been smoking for decades.
That's the case for Wanda Fike. Fike, 74, is mostly bedridden but makes regular trips down the hall to the smoking room to partake in the habit she began at age 18. Quitting sounds like a terrible idea to her.
"I get really nervous and almost sick," Fike said. "If we weren't able to smoke it would be terrible. That is the only enjoyment I get here."
Legal jurisdiction
For the time being, smoking is still going on in the home's designated room.
But David Corliss, Lawrence's assistant city manager and director of legal services, said it shouldn't be. He said the facility had been warned to stop the activity and that enforcement action would be taken.
Pomeroy had told commissioners he believed the facility might already be exempt from the regulations because there were state and federal regulations governing smoking in nursing homes.
Barb Conant, director of communications for the Kansas Department of Aging, said state officials believed the nursing home was required to comply with the city's ban.
A survey of the city's other nursing homes found that LakeView Manor was the only facility with a smoking room immediately prior to the ban.
Copyright 2018 The Lawrence Journal-World. All rights reserved. This material may not be published, broadcast, rewritten or redistributed. We strive to uphold our values for every story published.