Brad Tate might be the best school principal in two states.
Tate, a Lawrence resident, this month was named the Missouri Secondary Principal of the Year for his work at Park Hill South High School in Riverside, Mo., a suburb of Kansas City.
That comes a decade after Tate received a similar award in Kansas during his tenure as principal of Lawrence High School.
"Having a great staff makes you look good. That's my secret," Tate said last week.
The award puts Tate, again, in contention for National Secondary Principal of the Year. Officials at the National Association of Secondary School Principals did not return calls last week to say whether any other principal had ever won the award in two states.
But it's pretty rare.
"Pretty talented guy," Lawrence Supt. Randy Weseman said. "I think he's very deserving, and his talent is recognized. He was a fine principal here, and now he's being recognized in Missouri."
Tate gives much of the credit to the Park Hill South staff, but he says he tries to create a positive atmosphere in the school.
"It's a people business," he said. "If you're going to be successful and have a successful school, you better be able to work with people and get the best out of them. I don't know if that's what I learned in Lawrence, but it certainly was reinforced there."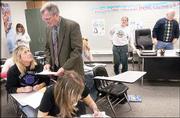 Tate left LHS after 24 years in 1997 to become the first principal at Park Hill South.
In recent years, Tate and his staff at the school have enacted new programs to help students: a discipline program that relies on a system of privileges instead of punishments; a freshman mentoring program and a new Internet site where parents can access their children's grades at all times.
'It's kind of changed some dinnertime conversations," Tate said. "The kids didn't like it at first, but the parents were all smiles."
Park Hill South also has created an academic intervention program. Every Monday the school creates a fresh list of students who have faltered in class; counselors move those students into tutoring and other types of intervention.
"What we've noticed is, within a class, the failure rates have gone down," Tate said.
All that work has translated into a new award. Tate may get to travel to the White House -- details haven't been worked out, but that's a traditional honor for state principals of the year. He missed the trip in 1995 when he received the Kansas award; he was on his way to China to adopt his daughter that time.
"Needless to say, I'm happy," Tate said. "It's an honor. I don't know how many others have ever done that, or if anybody has, but it's nice to have your work recognized."
Copyright 2018 The Lawrence Journal-World. All rights reserved. This material may not be published, broadcast, rewritten or redistributed. We strive to uphold our values for every story published.