Tonganoxie has lost one of its own in Iraq.
Lucas Frantz, a 2002 Tonganoxie High School graduate, died this week while serving in the Middle East.
Frantz was 22. He was a specialist in the Army.
On Tuesday, the cause of Frantz' death had not been released.
News about the Tonganoxie graduate filtered through the Tonganoxie school district Tuesday.
Phil Jeannin, a Tonganoxie Junior High School physical education teacher, was Frantz' father-in-law. Jeannin's stepdaughter Kelly was Frantz' wife.
LeAnn Bond, also a P.E. teacher at the junior high, was told someone needed to cover Jeannin's classes mid-morning.
Later that morning, a school official told Bond that Jeannin had met with military personnel.
"Then we knew," Bond said. "That's when I got a sick feeling in my stomach."
Bond described Frantz as "always having a smile on his face."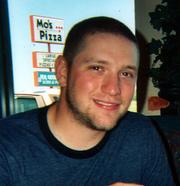 "He was a good kid to give a hard time," Bond said.
Tonganoxie High coach Mark Elston coached Frantz in football.
When Elston heard the news, he remembered the Friday football game after Sept. 11, 2001. Players and coaches held hands in a moment of silence for the victims at the World Trade Center and the Pentagon.
Elston clasped one of Frantz' hands in that chain.
"I instantly reverted back to that night," Elston said. "He was standing there just as proud and confident as ever."
In the summer of 2001, Frantz had attended boot camp in Georgia before starting his senior year at THS.
Before this Friday's football game at Beatty Field, the team will retire Frantz' football jersey, No. 69.
"What's weird is we have every lineman number used, except this one," Elston said as he folded the jersey.
The American flag will fly at half-staff at the game, Elston said. Fellow classmates who played with Frantz as seniors in the fall of 2001 have been contacted for the ceremony, Elston said.
Tonganoxie's opponent Friday will be De Soto. When THS played De Soto in 2001, Frantz blew out his knee. He returned, though, to play the final three games of his senior year that fall.
"Why take such a good person?" Elston asked. "Apparently God's got something bigger in store for him."
Tuesday, flags already were flying at half-staff throughout Tonganoxie.
Junior high teachers remembered Frantz as a hard-working student with personality. Chris Weller, an industrial arts instructor, said Frantz always was positive.
"He was a kid who always was really cheerful and in a good mood," Weller said. "An extremely hard worker for me. Just overall a very likable kid."
Weller also recalled a day when local residents were re-roofing a Tonganoxie resident's home.
"He came over and volunteered the whole darn day," Weller said. "If he wouldn't have shown up, we would never have gotten the thing finished.
"He was more mature than anybody else his age."
That's what Steve Hughes remembered about Frantz as well. Hughes, the high school building and trades instructor, remarked that Frantz was a "pleasant kid."
"Even after he graduated, he would come back and visit you," Hughes said. "Every time you would see him, he would stop and talk to you. I've always appreciated kids, when you see them, they look you in the eye and speak.
"He was that type of kid."
In the end, Frantz left many people in Tonganoxie proud of their former football-player-turned-military-soldier. His loss also left many in disbelief.
"It was pretty disturbing because he was such a wonderful person," Elston said.
Copyright 2018 The Lawrence Journal-World. All rights reserved. This material may not be published, broadcast, rewritten or redistributed. We strive to uphold our values for every story published.