Fort Worth, Texas — Former Kansas University football coach Glen Mason huddled his players together after the 1991 season finale and declared his Jayhawks "winners" in front of a tearful locker room that had been through so much.
That team's journey is eerily similar to this year's Jayhawk squad, once again winners after 10 years muddled in mediocrity and, in some cases, hampered by dreary performances meant to be forgotten.
Kansas defeated Houston, 42-13, Friday in the Fort Worth Bowl, locking up a 7-5 season that was KU's first above .500 since 1995.
Mason's fourth season at KU -- 1991 -- was his first winning season, after the Jayhawks went a decade without a winning mark.
Just like current KU coach Mark Mangino.
What's left to be seen is where Kansas goes from here under Mangino. Mason went 29-18 with two Top-25 finishes after making KU a winner again. Mangino's fate remains to be seen.
"We had an opportunity for our senior class to leave in great fashion," Mangino said. "They led us to a winning season for the first time at KU in 10 years, a bowl victory, and you all know all the great things these kids have done leading up to this game."
Photo Gallery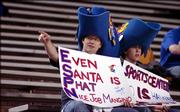 Fort Worth Bowl: KU vs. Houston
One of those seniors was quarterback Jason Swanson, the Fort Worth Bowl most valuable player who had a career night in his final night wearing KU blue. He threw for 307 yards and four touchdowns, two on shovel passes to Jon Cornish that kept separation between the Jayhawks and Cougars.
Houston had the shovel pass in its playbook, too. But while Cornish ran wild on the receiving end of his, Kendal Briles was creamed by Kevin Kane upon catching his on a play in the third quarter.
Such little differences in execution added up to a big victory for Kansas.
"We had some bad things happen," Houston coach Art Briles said. "We didn't coach very well, didn't play very well, and the score didn't turn out very well."
Houston thrived off its balanced offense all season, but KU's run defense was phenomenal for one last time this year. Houston had 30 yards rushing on 24 carries, and 1,000-yard back Ryan Gilbert finished with 13 yards on nine rushes.
"They talked a lot," KU linebacker Nick Reid said. "All week they talked a lot. ... They talked a good game, but they really didn't back it up rushing the ball."
Reid's comments had media members and teammates chuckling, but he got a couple of pad slaps for it by Swanson afterward.
"It had to be said," Swanson said. "He had to do it."
Go figure
538 KU's total offensive yards 244 UH's total offensive yards 307 Passing yards by KU's Jason Swanson 2 Punts by Kansas
Houston's rushing offense shut down, the Cougars had to rely on Kevin Kolb's arm. He finished with 214 yards passing, but zero touchdowns, two sacks and three interceptions told the final tale.
"They were going to be able to dink and dunk for a while," Mangino said. "But it was going to be a matter of time before our defensive front wore them down."
Kansas scored first on an 85-yard punt return by Brian Murph, had the two touchdown receptions by Cornish, touchdown catches by Murph and Mark Simmons and a dazzling 14-yard interception return for a score by defensive end Charlton Keith. The 42 points were the most by the Jayhawks all season, and with the defense as solid as ever, victory was imminent.
"It was a good win for our kids," Mangino said. "I thought that our offense played well, our defense played well, and we made some big plays on special teams."
And it equaled victory, a 7-5 record and, perhaps if history is any indication, the opening of a more win-friendly era for Kansas football. "To go out on top with a big win like this, it just hasn't sunk in yet," Reid said. "We've come a long way. It's pretty neat to be part of the foundation."
Copyright 2018 The Lawrence Journal-World. All rights reserved. This material may not be published, broadcast, rewritten or redistributed. We strive to uphold our values for every story published.