A Kansas State University English professor convicted of murdering his ex-wife stood up in court at sentencing Friday afternoon and called the case against him a "fairy tale."
"I have never raised my hand in anger against anyone, not ever," linguistics expert Thomas E. Murray said to a silent, standing-room-only courtroom in Douglas County District Court.
He said jurors reached their guilty verdict at trial beyond a "so-called 'reasonable doubt,'" and he likened the decision to the finding centuries ago that the world was flat. Responsibility for Carmin D. Ross' brutal stabbing and beating death, he said, has been "neatly packaged and laid on my doorstep."
"I cannot accept delivery," he said.
He said his ex-wife was "singularly wonderful and generous."
"Certainly she was much too young and full of life to die," he said. "I don't believe anyone should have to die in the manner which she apparently did."
Life sentence
Judge Robert Fairchild then sentenced Murray to the amount of time required under Kansas law for first-degree murder: life in prison with no parole eligibility for 25 years. He has 10 days to appeal his conviction.
Jurors in March convicted Murray, 48, of stabbing and beating Ross to death in November 2003 at her home north of Lawrence on East 1150 Road.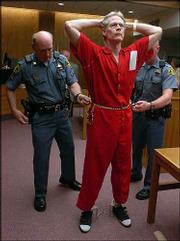 Ross' family members said they weren't surprised by Murray's remarks, though they had hoped he would accept responsibility.
"He has no feeling. He has no emotions," said Ross' father, Danny Ross, of Lapel, Ind.
Before Murray's remarks, Ross' parents and sisters took turns coming forward to address him face-to-face.
They described Ross' loving, peaceful nature and the impact the death had on the couple's kindergarten-aged daughter, Ciara, who now lives with her grandparents.
"I wish you could feel the misery and confusion of Ciara's little heart," sister Samantha Fabbri said. "You've left so many people to clean up what you've done."
They talked about the good times they had with Murray -- family vacations, board games, the time they sang 'Tea for Two' until it made them nauseous -- and said those memories are ruined.
"I miss you, or who you were," Ross' sister Heather Bowman told Murray. "As much as Carmin died that day, you died, too."
Mystery lingers
The crew from CBS News that filmed Murray's trial did not attend his sentencing Friday. The "48 Hours" episode on the Murray case is tentatively scheduled to run at 9 p.m. May 14, Sunflower Broadband Channels 5 and 13.
Details of how the killing unfolded remain a painful mystery for the Ross family.
"I wonder how long it took," sister April Russell said to Murray. "I wonder if she begged you to stop...I wonder when it was all over if you were sick with disgust over what you had done."
Ross was stabbed about 13 times in the neck and had lacerations about her head from a blunt object.
"I saw the pictures, Tom," Fabbri said. "I saw what you did to her."
Prosecutors alleged Murray tried to plot the perfect murder, cover it up by destroying evidence, and concoct reasons his fingerprints and blood would be at the crime scene. Ross recently had divorced Murray, moved to Lawrence, and fallen in love with a new man.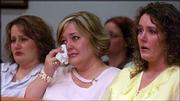 She was planning to fight Murray for custody of Ciara and move to California to be with her fiance, Larry Lima.
There was no single piece of forensic evidence that linked Murray to the death. He was convicted largely on the basis of murder-related Internet searches and suspicious statements during a rambling, 10-hour videotaped statement to police.
A majority of the jurors who convicted Murray during a month-long trial attended the sentencing.
"I cannot and will not accept responsibility for that which I did not do," Murray told the courtroom.
Thoughts of revenge
Murray showed no emotion during the statements from the Ross family, something Danny Ross pointed out during his remarks.
"As I sit here right now, I realize how inhuman you are," he said. "You've shown no emotion. ... You are a monster."
Danny Ross said he'd struggled with wanting to exact revenge and kill Murray. He told Murray he realized that would make him a monster, too.
He said he forgave Murray but still wanted him to suffer.
"I want your head to be beaten so your skull is split open and exposed," Ross said. "I want you to be abused every day for the rest of your life."
The only time Murray showed emotion at the hearing was when he read a letter to Ciara. He wrote that he missed her, that it wasn't his choice for them to be apart, and that a friend of the family had another baby.
"Thank you so much for being my daughter," the letter said. "I love you to the moon and back a thousand and fifty-three times. Love, Daddy."
Copyright 2018 The Lawrence Journal-World. All rights reserved. This material may not be published, broadcast, rewritten or redistributed. We strive to uphold our values for every story published.