Six years ago, Bill Lee discovered that Iowa and Nebraska each had formed a hall of fame to honor its musical history.
And it made him angry.
"I resented it because we had a lot better musicians than Iowa and Nebraska had -- a lot more famous ones," Lee says.
So the 25-year radio veteran and author of "Kansas Rockers -- The First Generation" decided to take matters into his own hands. Now Lawrence is on the eve of hosting the Kansas Music Hall of Fame induction ceremony Saturday at Liberty Hall, 642 Mass.
"There are a lot of musicians who deserve recognition that aren't going to get it otherwise," Lee says. "They influenced a lot of lives and had an impact on the popular culture of this area, but maybe did not have a national or international impact. Their appeal tended to be regional. So they're not going to be in the Rock and Roll Hall of Fame in Cleveland."
The debut list mainly honors artists whose popularity began (and sometimes ended) in the 1960s. The inductees include The Blue Things, Brewer & Shipley, Chesmann/Chesmann Square, Mike Finnigan, The Fabulous Flippers, Kansas, The Red Dogs, Rodney and the Blazers and Big Joe Turner.
"It's an awesome group," Lee says. "Every time I look it over I think, 'If we had to shorten it, who would we drop?' The answer is nobody."
When singer Dennis Loewen heard that his band The Fabulous Flippers was among the first class selected to enter the hall of fame, the news stirred up plenty of memories.
"It reminded me of all the stories and the connections," he says. "It was kind of a phenomenon that started happening in the early '60s that became quite remarkable -- people playing instruments, putting together bands and people going out to see them. It was kind of a little renaissance."
Loewen's Flippers were so regionally popular they've already been inducted into the Iowa and Nebraska music halls of fame.
"The Flippers were significant because before we came along all the bands were guitar bands," says Loewen, who also played guitar, keyboards and trombone in the act. "Some way or another we got this concept of having a horn section. And we also wanted to do a show -- we got into choreography."
Formed by Kansas University students in 1964, the ensemble went on to score a deal with the Cameo-Parkway label. Almost overnight the outfit found itself heading to New York to record and appear in a movie shot at 20th Century Fox studios.
The group's original lineup will reunite for Saturday's performance, then will serve as the backing band for Finnigan. Although the members are scattered throughout the states, Loewen still lives in Lawrence, where he works in property management.
With: Live performances by Rodney and the Blazers, The Red Dogs, The Fabulous Flippers, Mike FinniganWhen: 7 p.m. SaturdayWhere: Liberty Hall, 642 Mass.Tickets: $20-$25 (all ages)Ticket info: 749-1972More information: www.lawrence.com
"For people our age to look to that time when the Flippers were in their heyday, they're not only remembering the band, they're remembering the time," he says. "It was a good time."
How to get voted in
There are two requirements to be inducted into the hall of fame:
The artist must have impacted the musical history of Kansas or the greater Kansas City area.
The artist must have performed live at least 25 years ago.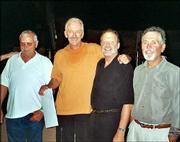 "The reason for that second one is purely practical," Lee explains. "We want to induct the older guys first, because if we don't they're going to be dead. The younger guys can wait. Their time will come because every year somebody else will become eligible."
The voting is done by a five-member board of directors, which includes Lee, radio veterans/musicians Bob Hapgood and Allen Blasco, former talent agent Meredith Gordon and Rodney Lay of Rodney and the Blazers.
Is that a conflict of interest to have a board member vote himself in?
"He didn't vote," Lee says. "His name was on the ballot and he abstained. We went out of our way to make sure there was no conflict of interest. He's such an obvious inductee that we'd have kicked him off the board to induct him."
If a five-member board seems a small amount of folks to determine such an honor, it is, when compared to other state music halls of fame. For example, Minnesota has a 15-person board, Oklahoma fields 19 and Georgia has 12.
Yet Lee believes the number isn't particularly relevant.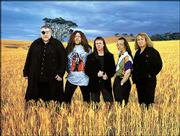 "If we got 100 people in a room and had them come up with a list of 10, we'd probably have at least 500 different bands. And all of them are legitimate choices," he says.
A permanent home
There is no concrete institution erected yet to house the hall. But there are two potential plans: One is to retain it in a specific city; the other is to make it a traveling exhibit.
"Initially, we thought about doing it in Lawrence, because it's always been the music center of the state," Lee says. "At the same time there are a bunch of people in Wichita who are interested in doing it there."
The benefit of having a permanent location for the hall would likely be considerable.
The Blue ThingsBrewer & ShipleyChesmann/Chesmann SquareMike FinniganThe Fabulous FlippersKansasThe Red DogsRodney and the BlazersBig Joe Turner
"It brings a real homegrown recognition to these artists and what they are doing or have done. That means a lot to the artists," says Joseph Johnson, curator of music and popular culture at the Georgia Music Hall of Fame.
"What they need to do in Kansas is to make sure to cast your net deep and wide to cover the music history -- not just the inductees. Here we look at every genre of music, as far back from the colonial period to the Native Americans."
Dogs' life
Saturday's induction ceremony will feature four live performances. In addition to Finnigan and the Flippers, Rodney and the Blazers and The Red Dogs will perform.
"Some of the Red Dogs haven't touched instruments in 30 years," Lee reveals. "They're spending all this week rehearsing.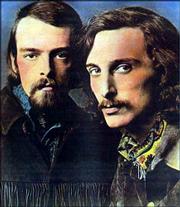 "It's turned into a class reunion for old band guys."
Acts will be inducted alphabetically. Performances are planned between every two inductees.
Also as part of the ceremonies, the governor will be there to proclaim it Kansas Music Hall of Fame day, and a Board of Director's Award will be announced.
Lee and company chose this month to conduct the inaugural event because it coincides with the 40th anniversary of The Red Dog Inn (now Liberty Hall), which opened Jan. 1, 1965. The original venue played such an important role in the development of many of these musicians that the timing was a no-brainer.
While Lee is proud to bring attention to a generation of artists that modern audiences may not be familiar with, he believes the hall will hold a much larger purpose in the state's music scene.
"We not only want to honor musicians of the past but promote music of today," Lee says. "We want to make people in the state aware of the talent that IS around them, not just the talent that WAS around them."
Copyright 2018 The Lawrence Journal-World. All rights reserved. This material may not be published, broadcast, rewritten or redistributed. We strive to uphold our values for every story published.