Long-buried gasoline tanks burst above ground at a west Lawrence service station Friday, shattering the concrete parking lot and prompting contamination fears.
Officials said heavy rains overnight Thursday may have caused the tanks to float upward, like a submarine breaking through an ice cap.
"We're speculating that the tanks didn't have much fuel in them," said Lawrence-Douglas County Fire & Medical Deputy Chief Mark Bradford. "With the amount of rain we had throughout the night and not having enough fuel, there wasn't anything to hold the tanks in place."
Three of the four gasoline tanks at Phillips 66/Miller Mart, 3300 W. Sixth St., floated to the surface.
The station and a Mexican restaurant inside were forced to close.
Bradford said it would take about two days to clean up and pull out the gas tanks.
Photo Gallery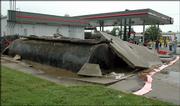 Underground tanks surface
Two gasoline storage tanks were pushed to the surface Friday morning by groundwater at the Miller Mart near Sixth Street and Frontier Road.
Sharon Watson, a spokeswoman for the Kansas Department of Health and Environment, said the station owners would be required to secure the tanks with cement barriers.
"These tanks were put in the basin before regulations were put in place requiring tanks to be cemented down," Watson said. Those regulations went into effect more than a decade ago, she said.
There were more immediate concerns Friday.
Firefighters and city public works employees built a dike on the west side of the gas station to contain possibly contaminated water. They also closed access to the gas station and a closed restaurant to the north. Electricity to the gas station also was shut off.
By late afternoon, workers began to drain the water out of the basin holding the gasoline tanks - about 9,000 gallons by 3:30 p.m. The draining process will continue today.
The electricity shutoff forced the disposal of cold food and drinks at the station. An investigator for the Kansas Department of Agriculture oversaw that process.
The owner of Miller Mart, Dale Miller, didn't immediately return telephone calls. It is unknown when the station will reopen.
Copyright 2018 The Lawrence Journal-World. All rights reserved. This material may not be published, broadcast, rewritten or redistributed. We strive to uphold our values for every story published.