New Orleans — Hurricane Katrina was not the apocalyptic storm that New Orleans has been dreading all these years. But it was fast approaching that level in nearby Gulf Coast towns in Mississippi.
The early death toll from the storm was at least 55, including an estimated 50 people killed in one Mississippi county alone, said Jim Pollard, spokesman for the Harrison County emergency operations center.
The death was accompanied by widespread destruction: Floodwaters gushed into Mississippi's flashy beachfront casinos. Sailboats were flung across a highway like toys. Dozens of people had to be rescued from rooftops and attics as the water rose through their homes. Some neighborhoods in the Big Easy were submerged up to their roofs.
And the death toll is only expected to go up as authorities reach more flood-ravaged homes along the Gulf Coast.
"Some of them, it was their last night on Earth," Terry Ebbert, chief of homeland security for New Orleans, said of people who ignored orders to evacuate the city of 480,000 over the weekend. "That's a hard way to learn a lesson."
Katrina barreled into the Gulf Coast just outside New Orleans around daybreak Monday as a monstrous, 145-mph storm, making a right turn at the last minute to spare the Big Easy the doomsday scenario it has long feared. Had Katrina not shifted, hurricane waters could have spilled over levees and swamped the saucer-shaped city in a toxic soup of refinery chemicals, sewage and human bodies.
Photo Gallery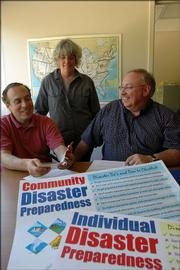 Hurricane Katrina
Katrina knocked out power to more than a million people from Louisiana to the Florida's Panhandle, and authorities said it could be two months before electricity is restored to everyone. Ten major hospitals in New Orleans were running on emergency backup power.
The federal government began rushing baby formula, communications equipment, generators, water and ice into hard-hit areas, along with doctors, nurses and first-aid supplies. The Pentagon sent experts to help with search-and-rescue operations.
Katrina was later downgraded to a tropical storm as it passed through eastern Mississippi, moving north at 21 mph. Winds were still a dangerous 65 mph.
Forecasters said that as the storm moves north through the nation's midsection over the next few days, it may spawn tornadoes over the Southeast and swamp the Gulf Coast and the Tennessee and Ohio Valleys with a potentially ruinous 8 inches or more of rain.
Oil refiners said damage to their equipment in the Gulf region appeared to be minimal, and oil prices dropped back from the day's highs above $70 a barrel. But the refiners were still assessing the damage, and the Bush administration said it would consider releasing oil from the nation's emergency stockpile if necessary.
Mississippi was subjected to both Katrina's harshest winds and highest recorded storm surges - 22 feet. The storm pushed water up to the second floor of homes, flooded floating casinos, uprooted hundreds of trees and flung sailboats across a highway.
In Alabama, Katrina's arrival was marked by the flash and crackle of exploding power transformers. The hurricane toppled huge oak branches on Mobile's waterfront and broke apart an oil-drilling platform, sending a piece slamming into a major bridge.
Muddy six-foot waves crashed into the eastern shore of Mobile Bay, flooding stately, antebellum mansions and littering them with oak branches.
"There are lots of homes through here worth a million dollars. At least they were yesterday," said Fred Wright. "I've been here 25 years, and this is the worst I've ever seen the water."
It was Katrina's second blow: The hurricane hit the southern tip of Florida as a much weaker storm Thursday and was blamed for 11 deaths. It was the sixth hurricane to hit Florida in just over a year.
Guardsmen available
About 35 percent of Louisiana's National Guardsmen and 37 percent of Mississippi's have been deployed to Iraq or to support the war, but there are still enough troops to respond to Hurricane Katrina, a National Guard spokesman said Monday. About 3,500 Army National Guardsmen in Louisiana have been activated to help with security, shelter, removing debris and distributing water and food, said spokesman Jack Harrison of the National Guard Bureau. That's about half the 6,500 troops who are available for the crisis. More than 850 of the 7,000 available National Guardsmen in Mississippi have been activated for the hurricane.
By the numbers
145: Top wind speed as Katrina hit Gulf Coast
55: Deaths reported Monday, 50 of which occurred in one Mississippi county
11: Deaths reported last week after Katrina hit Florida
1 million +: People who have lost power because of Katrina
2: Months before all electricity expected to be restored
20: Estimated number of buildings that collapsed in New Orleans
22: Highest recorded storm surge, in feet, measured in Mississippi
9,000: Number of people who took refuge in the Superdome in New Orleans. Power failed, and three hours later the wind tore away metal and left two holes in the roof.
843-3550: The phone number of the Douglas County Chapter of the American Red Cross, which will take relief donations by credit card. Donations may also be made online at www.redcross.org
Copyright 2018 The Associated Press. All rights reserved. This material may not be published, broadcast, rewritten or redistributed. We strive to uphold our values for every story published.