Photo Gallery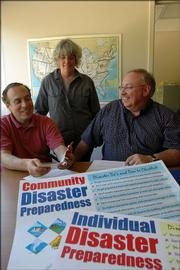 Hurricane Katrina
New Orleans — Gail Henke could think of no better way to celebrate the French Quarter's survival of Hurricane Katrina than to belly up to a bar on Bourbon Street with a vodka and cranberry juice. Call it a libation to the storm gods.
"You know what? There's a reason why we're called the Saints," the 53-year-old tour booker said Monday as she communed with 20 or so other survivors. "Because no matter what religion you are, whether you're a Catholic, whether you're voodoo, whether you're Baptist or so on, so on, and so on - we all pray. We all pray.
"I'm not a religious fanatic. But God has saved us."
Neighborhoods outside the Vieux Carre were inundated with up to 15 feet of water. But the old city, built on the highest ground around, weathered the glancing blow from the Category 4 storm in grand style.
Among the damage: Some chimneys collapsed into streets, and the famed rues were littered with roof slates and Spanish tile. And over on Burgundy Street, a two-story brick outbuilding that once had been slave quarters collapsed.
Terry Ebbert, chief of homeland security for New Orleans, said the French Quarter appeared to survive Katrina better than any of the city's neighborhoods.
After the storm passed, police circled the quarter with bullhorns shouting: "The French Quarter is closed. This is state of emergency. Please, please get off the streets or you will be detained."
But that couldn't dampen the indomitable spirit of one of the nation's most famous - and infamous - neighborhoods.
Tamara Stevens, 45, and her boyfriend Rick Leiby, 65, found their way to Johnny White's Sports Bar before the winds even stopped blowing. After spending a harrowing night in their swaying apartment, they needed to be out among people.
"This place will still be here," Leiby, a tour guide, said as he sipped a screwdriver from a plastic cup. "And it ain't gonna quit."
Copyright 2018 The Associated Press. All rights reserved. This material may not be published, broadcast, rewritten or redistributed. We strive to uphold our values for every story published.