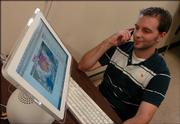 A suspenseful wait for a phone connection Monday left Tim Ribelin worried about his family in Petal, Miss.
It wasn't until late afternoon that he learned his family was safe. But Hurricane Katrina had knocked down all the trees - including a big oak - in the family's yard.
"I feel helpless," said Ribelin, 23, a graduate research assistant in medicinal chemistry at Kansas University. "I'd like to be there. But they've shut down the airports and a lot of the roads are closed. I'll just sit tight in Kansas.
"Hearing from my family will have to be enough."
Ribelin watched television news Monday to learn how his home state was dealing with the rage of Hurricane Katrina. Then he finally spoke with his family.
It could have been worse, Ribelin said, though he couldn't remember a more ferocious hurricane.
Photo Gallery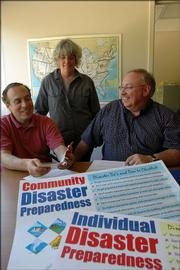 Hurricane Katrina
"With Hurricane Mitch in 1998, we just started getting big gusts of wind, and eventually school was shut down," Ribelin said. "Then, we went without power for about a week. But it wasn't as bad there as it is now."
Kansas utility companies sent crews south to assist with returning power and other utilities to communities hit by the hurricane.
On Monday morning, Westar sent seven four-man crews from several Kansas towns to Baton Rouge, La., company spokeswoman Karla Olsen said.
Companies that contract with Westar and Aquila also sent crews to help. The Pennsylvania-based Asplundh Tree Expert Co. sent 40 crews to remove tree branches from power lines. PAR Electric, which is based in Kansas City, Mo., currently has 280 employees working for various energy companies in Florida and Mississippi.
"Probably about 50 of the men that we sent are from Kansas," said Tim Warlen, regional vice president of the Midwest for PAR.
He said crews were pulled off of assignments with Westar and Aquila to help repair the damage done by Hurricane Katrina.
By the numbers
145: Top wind speed as Katrina hit Gulf Coast
55: Deaths reported Monday, 50 of which occurred in one Mississippi county
11: Deaths reported last week after Katrina hit Florida
1 million +: People who have lost power because of Katrina
2: Months before all electricity expected to be restored
20: Estimated number of buildings that collapsed in New Orleans
22: Highest recorded storm surge, in feet, measured in Mississippi
9,000: Number of people who took refuge in the Superdome in New Orleans. Power failed, and three hours later the wind tore away metal and left two holes in the roof.
843-3550: The phone number of the Douglas County Chapter of the American Red Cross, which will take relief donations by credit card. Donations may also be made online at www.redcross.org
Copyright 2018 The Lawrence Journal-World. All rights reserved. This material may not be published, broadcast, rewritten or redistributed. We strive to uphold our values for every story published.