Photo Gallery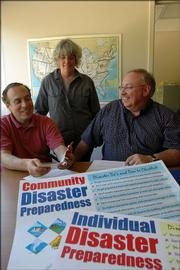 Hurricane Katrina
New Orleans — They lined up by the thousands to get inside, clutching meager belongings and crying children. A few hours later, the power went out, turning the building into a muggy mess. Then part of the roof blew off.
For an estimated 8,000 to 9,000 refugees - many of them poor and frail - the Louisiana Superdome was a welcome shelter from Hurricane Katrina, but a miserable one at the same time.
A large group of refugees gathered by barricades near an exit and demanded that they be allowed to leave. They were told it is not yet safe.
"We all want to be home," said Kenelra Morrison, 23.
The refugees spent Monday sitting in the seats of the stadium and others sprawled out on blankets and towels on the floor. They played cards and read books and magazines in the areas of the arena where the lights worked in the 77,000-seat stadium, home of the NFL's New Orleans Saints. Refugees were given two meals a day.
Superdome and government emergency officials stressed that they did not expect the huge roof to fail because of the relatively small breaches caused by Katrina's winds.
Refugees sitting below the holes were moved across the arena and away from any falling debris, said Doug Thornton, regional manager of the company that manages the stadium.
"I could have stayed at home and watched my roof blow off," said one of the refugees, Harald Johnson, 43. "Instead, I came down here and watched the Superdome roof blow off."
In addition to the two holes, water was leaking in through many other areas, including elevators and stairwells, as the wind forced water in through any small opening.
Copyright 2018 The Associated Press. All rights reserved. This material may not be published, broadcast, rewritten or redistributed. We strive to uphold our values for every story published.