New Orleans — With a Category 5 hurricane bearing down on his below-sea-level city, Mayor C. Ray Nagin made what pleas he could to his fellow residents to flee and then left it in the hands of a higher power.
"God bless us," a grim Nagin said Sunday as Hurricane Katrina's 160 mph winds swirled on a seemingly irreversible course toward the Big Easy.
Nagin ordered a mandatory evacuation for the city's 485,000 residents and opened the Superdome as a shelter of last resort, bluntly warning those who stayed that they would be at the mercy of Katrina's high winds, 28-foot storm surge and 15 inches of rain that threatened to overwhelm the city's protective levees.
"We are facing a storm that most of us have long feared," Nagin said. "This is a once-in-a-lifetime event."
Katrina intensified into a Category 5 giant over the warm water of the Gulf of Mexico, reaching top winds of 175 mph before weakening slightly on a path to hit New Orleans around sunrise Monday. That would make it the city's first direct hit in 40 years and the most powerful storm ever to slam the city.
Forecasters warned that Mississippi and Alabama were also in danger because Katrina was such a big storm - with hurricane-force winds extending up to 105 miles from the center - that even areas far from the landfall could be devastated.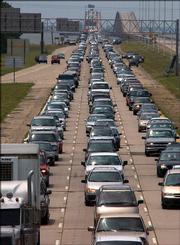 Even as the eye of the hurricane was still more than 100 miles south of the mouth of the Mississippi River, Grand Isle was recording sustained winds of nearly 44 mph and gusts up to 55 mph.
"The conditions have to be absolutely perfect to have a hurricane become this strong," National Hurricane Center director Max Mayfield, noting that Katrina may yet be more powerful than 1992's Hurricane Andrew. Andrew, with winds of 165 mph, leveled parts of South Florida, killed 43 people and caused $31 billion in damage.
"It's capable of causing catastrophic damage," Mayfield said. "Even well-built structures will have tremendous damage. Of course, what we're really worried about is the loss of lives.
"New Orleans may never be the same."
'Worst-case scenario'
For years, forecasters have warned of the nightmare flooding a big storm could bring to New Orleans, a bowl-shaped city bounded by the half-mile-wide Mississippi River and massive Lake Pontchartrain. As much as 10 feet below sea level in spots, the city is as the mercy of a network of levees, canals and pumps to keep dry.
With Katrina's outer bands of rain and squalls lashing New Orleans early Sunday evening, scientists predicted the levee system would easily be overtaken, swamping the city in a cesspool of toxic chemicals, human waste and even coffins that could cause extensive damage and leave more than 1 million people homeless.
No fallout here
Kansas and much of Missouri are not expected to see any weather aftereffects when Hurricane Katrina crosses over land, according to the National Weather Service in Topeka.
"The remnants of the hurricane should stay well east of Kansas," meteorologist Kyle Poage said.
The extreme southeast corner of Missouri might see some rain from the Katrina but otherwise the storm will move from Louisiana and Mississippi up through Tennessee and Kentucky.
"All indications are that this is absolutely worst-case scenario," Ivor van Heerden, deputy director of the Louisiana State University Hurricane Center, said Sunday.
Jefferson Parish President Aaron Broussard said some who have ridden out previous storms in the New Orleans area may not be so lucky this time.
"I'm expecting that some people who are die-hards will die hard," he said.
At 10 p.m. CDT, Katrina's eye was about 105 miles south of the mouth of the Mississippi River and 170 miles south-southeast of New Orleans. The storm was moving toward the north-northwest at about 10 mph and was expected to turn toward the north. A hurricane warning was in effect for the north-central Gulf Coast from Morgan City, La., to the Alabama-Florida line.
Despite the dire predictions, a group of residents in a poor neighborhood of central New Orleans sat on a porch with no car, no way out and, surprisingly, no fear.
"We're not evacuating," said Julie Paul, 57. "None of us have any place to go. We're counting on the Superdome. That's our lifesaver."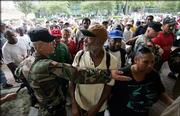 The Superdome, the 70,000-seat home of football's Saints, opened as an emergency shelter at daybreak Sunday, giving first priority to frail, elderly people. They were told to bring enough food, water and medicine to last up to five days.
"They told us not to stay in our houses because it wasn't safe," said Victoria Young, 76, who sat amid plastic bags and a metal walker. "It's not safe anywhere when you're in the shape we're in."
Fitter residents waited for hours in the muggy heat and then pouring rain to get in, clutching meager belongings and crying children. By nightfall, more than 9,000 refugees were safely inside, seated in the stands because of fears the field could flood.
In the French Quarter, on a balcony above Bourbon Street, Tony Peterson leaned out over a railing festooned with gold, purple and green wreathes as Katrina's first rains pelted his shaved head.
"I was going to the Superdome and then I saw the two-mile line," the 42-year-old musician said. "I figure if I'm going to die, I'm going to die with cold beer and my best buds."
Slow evacuation
Airport Holiday Inn manager Joyce Tillis spent the morning calling her 140 guests to tell them about the evacuation order. Tillis, who lives inside the flood zone, also called her three daughters to tell them to get out.
"If I'm stuck, I'm stuck," Tillis said. "I'd rather save my second generation if I can."
But the evacuation was slow going. Highways in Louisiana and Mississippi were jammed as people headed away from Katrina's expected landfall. All lanes were limited to northbound traffic on Interstates 55 and 59, and westbound on I-10. At the peak, 18,000 vehicles an hour were streaming out of southeastern Louisiana.
By Sunday night, most major highways were cleared out and state police warned that late escapes would be impossible after high winds hit elevated expressways over the surrounding swamps.
Hotels filled up quickly as evacuees headed away from the coast. In Orange, Texas, more than 90 people who couldn't find hotel rooms settled in at the First Baptist Church, where activities were set up for children. Once the numbers there reached 100, the First Presbyterian Church was prepared to open.
Evacuation orders were also posted along the Mississippi and Alabama coast, and in barrier islands of the Florida Panhandle, where crashing waves swamped some coastal roads.
Mississippi's floating casinos packed up their chips and closed. The Nuclear Regulatory Commission said the Waterford nuclear plant about 20 miles west of New Orleans had also been shut down as a precaution.
"I'm expecting to come back to a slab," said Robert Friday, who didn't bother boarding up his home in suburban Slidell, La., before driving north to Mississippi. "We may not be coming back to anything, but at least we'll be coming back."
New Orleans has not taken a major direct hit from a hurricane since Betsy blasted the Gulf Coast in 1965. Floodwaters approached 20 feet in some areas, fishing villages were flattened, and the storm surge left almost half of New Orleans under water and 60,000 residents homeless. Seventy-four people died in Louisiana, Mississippi and Florida.
Tourists stranded by the shutdown of New Orleans' Louis Armstrong Airport and the lack of rental cars packed the lobbies of high-rise hotels, which were exempt from the evacuation order to give people a place for "vertical evacuation."
Tina and Bryan Steven, of Forest Lake, Minn., sat glumly on the sidewalk outside their hotel in the French Quarter.
"We're choosing the best of two evils," said Bryan Steven. "It's either be stuck in the hotel or stuck on the road. ... We'll make it through it."
His wife, wearing a Bourbon Street T-shirt with a lewd message, interjected: "I just don't want to die in this shirt."
Copyright 2018 The Associated Press. All rights reserved. This material may not be published, broadcast, rewritten or redistributed. We strive to uphold our values for every story published.