Des Moines, Iowa — If he someday becomes president, Sen. Sam Brownback might remember Saturday's $25-a-head nacho dinner at the Iowa State Fairgrounds as a key step in the process.
Brownback, a Kansas Republican considering a bid for the 2008 GOP presidential nomination, was one of several hopefuls to speak here Saturday. Iowa's first-in-the-nation caucuses give political activists in the state a big role in determining the eventual nominee.
"All politics pass through here," Brownback told reporters before his speech.
That means Brownback is passing through Iowa repeatedly. Saturday's trip, he said, was his third or fourth to the state in recent months. And the trips are packed; he also attended a "meet-and-greet" and an ice cream social before attending the evening dinner.
"I'm trying to find out whether the things I've been pushing match what Iowans are interested in," he said.
Iowa Republicans said Brownback's vocal anti-abortion stance would help him with conservative evangelicals who make up the base of the state party.
But there are other factors to consider. Brownback doesn't have the same kind of national recognition as Sen. John McCain, now seen as a leading contender for the nomination. There are a slew of other possible contenders who are already putting Iowa organizations in place.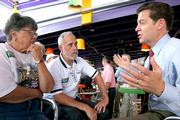 That means Brownback will fight to be heard.
"I would think he would want to ramp up his organization here," said Ted Sporer, chairman of the Polk County Republican Party, which hosted Saturday's dinner, a gathering of 800 party faithful.
Sporer added: "Showing up at things like this, that's smart. That's the sign of a good, aggressive candidate."
Family values
Dennis Gramentz, a Polk County activist who attended Saturday's dinner, said he helped distribute Christian Coalition voter guides in 1,000 churches across Iowa right before the 2004 presidential election.
"That's what made George Bush win," Gramentz said.
He said he and other participants in the GOP's 2008 Iowa caucuses would be looking to ensure that candidates hew closely to "family values" issues. So far, Gramentz said, he likes what he sees in Brownback.
"He gets a lot of support from Christians," Gramentz said.
Perhaps recognizing that, Brownback focused much of his Saturday speech on "values" issues: against abortion, for adoption, against gay marriage, for the Pledge of Allegiance - and, highlighting his service on the Senate Judiciary Committee - for federal judges who will protect those stances.
He also expressed support for a "flat" tax and balancing the federal budget, and he praised ethanol - much of which is made with Iowa corn - as a possible solution to the nation's energy problems.
"Thank you for pushing ethanol," Brownback said. "It keeps gas prices lower."
He also tried to connect with the rural voters, reminding them he had grown up on a farm in Parker, Kan.
Arkansas Gov. Mike Huckabee, another presidential contender, followed Brownback and sounded many of the same themes. Republicans here said Huckabee could rival Brownback for the affections of evangelical voters in Iowa.
Bob Vander Plaats, a GOP contender for Iowa governor, said it would be difficult to choose between the two.
"Both of those guys," Vander Plaats said, "would make a good choice."
U.S. Rep. Tom Tancredo, R-Colo., also attended Saturday's dinner, but he isn't considered a real contender for the nomination. He's using his candidacy to call attention to problems posed by illegal immigration.
'About ideas'
Where other possible candidates were more coy about their intentions - "It's not something I've ruled out," Huckabee told the Journal-World about his presidential ambitions - Brownback was frank about his intentions.
"I'm here to talk about ideas," he said. "To me, that's what presidential elections are about, and this (dinner) is the early framing for that."
Brooke Bauma, a Polk County Republican volunteer (and a former reporter for WIBW in Topeka), said Brownback and other candidates would have to work hard for support.
"Character is an issue that's at the top of the list," she said. "And they have to be in Des Moines a lot."
That last detail isn't a problem for Brownback, said Sporer, the Polk County chairman.
"Your senator has been here a lot," Sporer told the Journal-World. "His name is spoken more and more. That's why we were hot to trot to get him here."
That means Saturday's nacho dinner could be just the beginning for Brownback. If he chooses to run, he'll attend a lot more picnics, ice cream socials and steak fries across Iowa over the next three years.
But Brownback, who has already ruled out running for a third term in the Senate, won't make up his mind until next year.
"It has to be," Brownback said, "a matchup of the man, the message and the moment for this to move forward."
Copyright 2018 The Lawrence Journal-World. All rights reserved. This material may not be published, broadcast, rewritten or redistributed. We strive to uphold our values for every story published.