The Lawrence area's economic-development effort is losing its leader, but she won't be going far.
Lynn Parman, vice president for economic development at the Lawrence Chamber of Commerce, is leaving the post after three years to join the Kansas City Area Development Council.
As the council's new vice president for business development, Parman will focus on recruiting technology and life-sciences businesses to Kansas City's 18-county region, which includes Lawrence and Douglas County.
"She's not leaving Lawrence," said Tim Cowden, the council's senior vice president. "She's bringing Lawrence to the development council."
Parman accepted the job Thursday, only four days after opening discussions with Cowden and other council officials. Her last day at the chamber will be Sept. 30, and she starts work at the council Oct. 3.
"I'll never forget Lawrence - the progressiveness of the community, and the vibrance of the community," said Parman, who came to the chamber from St. Joseph, Mo., in July 2002. "This is a wonderful community to do economic development. We've had so many successes over the last three years, and I really look forward to seeing great things continue to happen in Lawrence - and, in my new role in Kansas City, looking on over at Lawrence and seeing how it continues to flourish and to grow in great directions."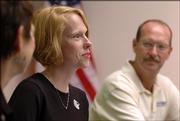 The chamber plans to conduct a "broad search" for Parman's replacement, said Lavern Squier, chamber president. He plans to convene a search committee, and has not set a deadline for having someone hired.
Whoever gets the job will be responsible for a program with a $600,000 budget this year to recruit new companies to the area, encourage existing businesses to expand and strengthen the environment for businesses to succeed. Next year's program is expected to include a new vice president for biotechnology, plus financing for establishing high-tech laboratory space to accommodate spinoffs from Kansas University or other promising efforts.
During her three years in Lawrence, Parman helped attract, encourage and facilitate the addition of 1,400 new jobs and more than $120 million in new investment in the community. Among the most notable projects also was her first: construction of a $28 million Serologicals Corp. manufacturing plant in the East Hills Business Park.
Parman closed the deal to land the Atlanta-based life sciences company within months of her arrival in Lawrence, following up on a lead forwarded to her by the Kansas City Area Development Council.
Lawrence officials intend to see even more of such leads coming back to Lawrence in the future, now that Parman will be the one leading the search for life sciences and technology jobs on behalf of the entire region.
"We definitely do expect some new companies for Lawrence," chamber Chairwoman Shirley Martin-Smith told Parman on Thursday afternoon, during a meeting to announce the job change.
About a dozen government officials, business leaders and chamber board members gathered at the chamber offices Thursday afternoon to hear the formal announcement. Many of them confessed to having mixed emotions: disappointment for losing a professional, enthusiastic and effective leader, but relief that she would continue working on behalf of Lawrence through the area's participation with the council.
Lawrence and Douglas County governments spend a total of $8,000 a year for the chamber to gain access to the council's services.
"Why don't we just not accept her resignation?" said Craig Weinaug, county administrator, drawing laughs from others in the chamber conference room.
But Parman, 32, has her mind set. She confessed that she'd been wanting to work for the council for the past decade, and noted that the move would relieve her husband, Jason - director of the Kansas City office of the federal Office of Personnel Management - of his 90-minute commute.
"This is a great opportunity," Parman said.
The council operates on a $3 million annual budget. About 10 percent of the financing comes from governments in the 50 communities that are council members; the remainder comes from corporate investors.
Copyright 2018 The Lawrence Journal-World. All rights reserved. This material may not be published, broadcast, rewritten or redistributed. We strive to uphold our values for every story published.