A Canadian who dreams of being a firefighter. A Swiss professor who wishes to bring stability to his young family. A man who came to the United States from Vietnam in 1975 - a refugee of the Vietnam War - and stayed to become a pharmacist.
The tales of their journeys were as diverse as the faces of the more than 140 people who gathered at the Dole Institute of Politics on Friday to become United States citizens.
"I want to welcome you to a new kingdom, your kingdom," U.S. Sen. Sam Brownback, R-Kan., told the crowd at the naturalization proceedings. "You're the rulers in this place. I serve you."
The new citizens were from 54 different countries. Croatia. Hong Kong. Lebanon. Togo. They were homemakers, mechanics, business owners and physicians.
Dong Nguyen came to the United States at age 2. His family left Vietnam during the Vietnam War. He came without papers identifying him as a Vietnamese citizen. With refugee status, he was granted permanent residence. He thought about gaining U.S. citizenship, but a busy life delayed the move. So he had no country that he could call his own.
Nguyen, a Kansas University graduate, is a pharmacist in Lenexa. He pledged his oath of allegiance to the United States on Friday.
Photo Gallery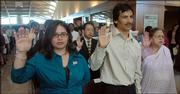 Citizenship ceremony at Dole Institute
"I can finally call this my home," he said.
For Daniel Stockli, of Switzerland, gaining citizenship brings stability to his family. Stockli, a KU assistant professor of geology, came to the United States a decade ago to study at Stanford University. He met his wife and they've started a family.
"I'm very much intending to stay in this country," he said.
And so, if he stays, he'd like the opportunity to vote.
Before he left the Dole Institute on Friday, Stockli filled out a voter registration card.
"I don't want to just be a silent bystander," he said.
Matthew McLoughlin was born in Quebec, Canada, the son of British parents. He moved to Ontario, Canada, when he was 8 and then to Wichita at 12, following his father's job changes.
Now 24, the Lawrence resident wants to be a firefighter. But not being a U.S. citizen made his plans more difficult. McLoughlin renounced his Canadian citizenship and gained U.S. citizenship Friday.
It was a natural move, he said. "I always think of myself as American."
Copyright 2018 The Lawrence Journal-World. All rights reserved. This material may not be published, broadcast, rewritten or redistributed. We strive to uphold our values for every story published.