At first, some grumbled and noted the irony. A new federal law requiring schools to teach about the Constitution didn't seem to fit the spirit, at least, of the document they were supposed to celebrate.
But when the day came, schools and colleges showed there are as many ways to honor the nation's founding charter as there are to interpret it.
A law passed last year requires the federal government and any school receiving federal funding to organize Constitution-related activities on or about Sept. 17, the day the document was adopted in 1787. With that day falling on a Saturday this year, many events took place Friday.
At numerous schools, that meant watching broadcasts of talks by Justices Sandra Day O'Connor and Stephen Breyer on the Constitution, or a debate on "free speech in the digital age" at the National Archives in Washington. Elsewhere, teachers and students re-enacted the debates of the founding fathers, or followed lesson plans put out by civic groups.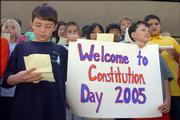 But colleges seemed to have the most fun complying with the law. A professor at Wesleyan, in Connecticut, set the Bill of Rights to music. Wittenberg College in Ohio offered a year of free pizza to the winner of a Constitution essay contest, and served "presidential pierogies" and "patriotic pasta" in the cafeteria. Boston University organized a panel on peer-to-peer file sharing featuring a producer named DJ Cheap Cologne.
Other schools planned their activities next week. Marlboro College in Vermont was organizing a samba parade of faculty dressed as articles and amendments.
That probably wasn't what West Virginia Democratic Senator Robert Byrd, who carries a copy of the Constitution in his pocket, had in mind when he inserted the measure into a giant spending bill last year. But in a telephone interview Friday, Byrd said fun was fine.
"I am pleased with the enthusiasm that teachers and students and educators all over the country are showing," said Byrd, who en route to a Constitution lecture at Shepherd College in his home state. "They seem to be interested in this Constitution more than ever."
The law applies to schools of all shapes and sizes - including Irene's Myomassology Institute, a massage school in Southfield, Mich. that had to comply because some students get federal financial aid.
"People who go through the naturalization process end up knowing more than citizens who have lived their whole lives here, and that's terrible," said Susan Vert, who works in admissions office there and developed a flier for students.
In Helotes, Texas, just outside San Antonio, a dozen or so seniors at Sandra Day O'Connor High School were given pocket-sized Constitutions before watching their school's namesake justice and Breyer discuss the document's importance.
Opportunity for debate
Afterward, teacher Shari Stubbs' students debated this week's federal court decision that the Pledge of Allegiance use of the words "under God" violates the 1st Amendment's religion clause.
"If we're not making them do something, how can it be unconstitutional?" said student Wesley Smith, opposing the court's decision.
In Washington, a few hundred students at the National Archives listened as several prominent figures, including First Amendment lawyer Floyd Abrams, debated where to draw the line on free speech.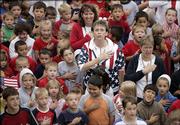 At Virginia's James Madison University, whose namesake wrote much of the document, Constitution Day activities are nothing new. There was a "We the people" cake, a trivia contest and a ceremony honoring the debate team.
The law prompted some concern from educators over the federal government telling schools and colleges what to teach. Generally, that's up to teachers, with guidance from state and local governments and from accrediting agencies.
Vanderbilt Law School planned to comply with the law by taking a swipe at it: a discussion next week on whether the law itself violates the Constitution.
Byrd said he had no problem with that either.
"I think it's all right," he said. "I have no doubt myself as to the constitutionality of the law. But it's perfectly all right to discuss. I'm glad that it's getting attention across the board."
Copyright 2018 The Associated Press. All rights reserved. This material may not be published, broadcast, rewritten or redistributed. We strive to uphold our values for every story published.