A massive fire "totally destroyed" a 76-unit Lawrence apartment building early Friday morning, injuring 17 people - including two who were taken by helicopter to Kansas City hospitals.
Interim Lawrence-Douglas County Fire & Medical Chief Mark Bradford told reporters at a 4:15 a.m. briefing that officials were still conducting a headcount of residents at Boardwalk Apartments in the 500 block of Fireside Drive, and that an "unknown" number were unaccounted for.
"There's been significant structural collapse," he said. "It will take us some time to get in and search all the areas."
Bradford said it was too early to determine the cause of the fire.
Surviving residents were directed to a Red Cross shelter set up at the nearby American Legion hall, 3408 W. Sixth St. At 4:30 a.m., the hall had received fewer than a dozen people seeking shelter.
"We can take in as many as we need to," said Jane Blocher, director of the Douglas County chapter of the American Red Cross. She said officials had told her as many as 100 people had been displaced by the fire, though most would seek shelter with family or friends.
Dispatchers received "numerous" 911 calls about the fire at 1:19 a.m., Bradford said. The first fire crews arrived on scene at 1:25 a.m. and quickly called in help from the Lenexa and Olathe fire departments.
Photo Gallery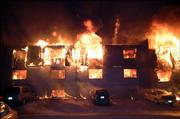 Fire at Boardwalk Apartments
Donna Watson, the manager of Boardwalk Apartments, said there were 76 units in the block of apartments that were burning but not every apartment was occupied.
"I have a real mix," she said. "There's young married couples, elderly people, singles, some college students."
Joseph Anderson, a Haskell student who lives in a nearby apartment, was playing video games on his Xbox with friends and became aware of the fire shortly after 1 a.m. He said he was joined by three friends in knocking on doors to try to get sleeping residents out of the building.
"We were all hysterical, yelling," he said. "I heard screams. I couldn't do anything for them : it was moving so fast."
The fire quickly spread to the rest of the building, which included the addresses of 510, 512, 516, 518, 522 and 524 Fireside Drive.
"All of which are totally destroyed," Bradford said.
Photo Gallery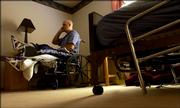 After the fire at Boardwalk Apartments
The blaze initially generated a column of glowing embers which threatened apartments and office buildings to the south. Police evacuated the nearby apartments, and firefighters quickly poured water on the building to prevent a spread of the conflagration.
Christopher Collins stood in the parking lot of a nearby building, shoeless and wrapped in a blanket.
"My place burned down," he said of his apartment at 524 Fireside No. 12.
"Somebody banged on my door - the real hard type where you think it's coming off the hinges. : I looked out my door to see where the fire was, figuratively speaking. I saw it was four doors down."
Collins said he had escaped wearing only the blanket. Somebody friendly gave him a shirt, pants and socks to wear.
"At least I got some dignity now," he said.
Dave Klebek also lived at 524 Fireside, in apartment No. 6. He escaped out the window with his cat after finding the ledge ablaze outside his front door.
"It wasn't much of a drop, second floor," he said.
500 block of Fireside Drive
But Klebek said he saw glass exploding from burning apartments, and another Boardwalk resident jump out of a third-floor window.
"We was grabbing at his ankle after he landed," Klebek said.
Bradford said firefighters treated and transported seven people for injuries, including two in critical condition who were taken by helicopter to Kansas City hospitals. Another 10 people took themselves to the Lawrence Memorial Hospital emergency room for minor injuries, he said; condition reports were not immediately available.
By 4:30 a.m., firefighters were still on scene, but it appeared they had the blaze mostly under control. And the first survivors were reporting to the Red Cross shelter.
Collins, as it happened, was the first resident to report.
"I'm homeless," he told the Red Cross volunteer.
For more on this story, see the 6News 6 p.m. and 10 p.m. reports on Sunflower Broadband's channel 6 and pick up a copy of Saturday's Journal-World.
Copyright 2018 The Lawrence Journal-World. All rights reserved. This material may not be published, broadcast, rewritten or redistributed. We strive to uphold our values for every story published.