When he talked to police after his ex-wife's brutal death, Thomas E. Murray told them: "There's no such thing as the perfect murder... The bad guy always gets caught."
On Thursday, after more than two full days of deliberation, a Douglas County jury found Murray, a Kansas State University English professor, guilty of stabbing and beating Carmin D. Ross to death in November 2003.
The verdict ended a 16-month ordeal for Ross' family. Her fiance, Larry Lima, described the process as "torture."
The conviction assured that the Ross family will keep custody of Murray and Ross' 6-year-old daughter, Ciara, who had lived with Murray between the time of the murder and his arrest.
"The most important thing is that it gives us our granddaughter to raise as Carmin would have wanted," Ross' father, Danny Ross, said afterward. "The worst part about all of it is that you folks don't know how wonderful our daughter was."
Murray will be sentenced May 6. He faces a sentence of life imprisonment, with the possibility of parole in 25 years.
Ross' family members sobbed and hugged each other after the verdict was read at 9:43 a.m. by Sherry Bernhardt, administrative assistant to District Court Judge Robert Fairchild. They went through the courtroom hugging prosecutors, police and other observers.
They also hugged and thanked some of the jurors.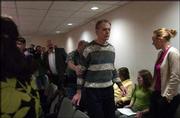 "It is bringing tremendous relief to our family," Danny Ross told jurors. "It's given me a lot of faith in the judicial system that perhaps I didn't have before."
Before jurors came into the courtroom, Murray sat at the defense table reading the book "In Other Words." Moments before the verdict, he turned to one of his attorneys and winked.
He gave no visible reaction after the verdict was read and was taken out of the courtroom by a deputy who held both of his arms as he walked.
"I feel a great deal of relief for the family, for Ciara, for the safety of that little girl," Assistant Dist. Atty. Angela Wilson said.
"We're elated," said Tom Bath, a special prosecutor hired by the Ross family. "This was a tough case, a circumstantial case with no direct evidence."
Jurors' view
Murray, 48, was charged with killing Ross, 40, on Nov. 13, 2003, at her home northwest of Lawrence at 1860 East 1150 Road.
Prosecutors said he had been planning the murder for weeks but grew enraged when he learned Lima was to move temporarily from California to Lawrence and that Ross planned to later move to California and fight him for custody of Ciara.
Two jurors who spoke after the verdict said there wasn't a single piece of evidence that caused them to convict Murray. Rather, it was the combination of all the circumstantial evidence.
Jurors said there were too many coincidences to make Murray's story plausible. For example, he told police during a 9 1/2-hour videotaped interview that they would find his blood in Ross' bathroom, on her clothes, and on her carpet because of a bleeding callus.
"He was telling things ahead of time before they even asked," said juror Robert Wagner, a Hallmark Cards employee and Journal-World newspaper carrier.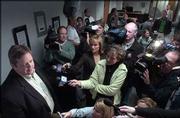 Jurors also said Murray's murder-related Internet searches -- for terms including "how to murder someone and not get caught" -- were incriminating.
Asked for his thoughts about Murray, juror Ted Kihm said, "I feel sorry for him. I don't know that I even want to talk about him, really."
Kihm said jurors were close to reaching a decision Wednesday night but decided to sleep on it. He said he thought all jurors had some doubt about Murray's guilt but not to the level of "reasonable doubt."
He said jurors reviewed the defense's case point-by-point and couldn't get any of the points to stick.
"They were contradicted by the evidence," he said.
Sentencing for Thomas E. Murray is scheduled for May 6. He faces life imprisonment, with the possibility of parole in 25 years. Defense attorneys said they would review transcripts before deciding whether to appeal.
Defense reaction
The defense had argued, among other things, that Murray searched the Internet for murder-related terms because he wanted to write scripts for television crime dramas.
Defense attorneys Bob Eye and Pedro Irigonegaray said they were disappointed by the verdict.
"We believed that there was, in fact, reasonable doubt," Irigonegaray said. He cited the lack of physical evidence, the unidentified shoe and fingerprints at the scene, and the narrow window of time in which Murray would have had to commit the crime.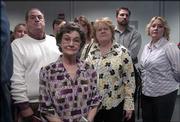 Irigonegaray said he and Eye would review the transcript before deciding whether to appeal.
Kansas State University issued a statement after the verdict saying Murray's employment had been terminated.
Copyright 2018 The Lawrence Journal-World. All rights reserved. This material may not be published, broadcast, rewritten or redistributed. We strive to uphold our values for every story published.