Visit website 1626 W 23rd St., 23rd and Ousdahl, Lawrence, KS 66044 Open today until 1 a.m.
West-Mex™ / B1 Meat & Potato Breakfast Burrito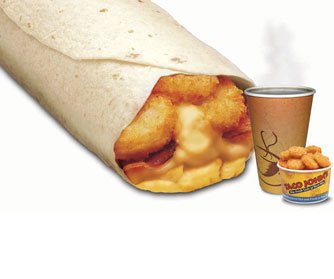 Taco John's Meat & Potato Breakfast Burrito is a soft flour tortilla loaded with your choice of bacon or sausage, golden Potato Olés®, eggs and nacho cheese. Great on its own or try a combo! Every Taco John's Breakfast Combo comes with a breakfast-sized order of Potato Olés® and choice of beverage – coffee, orange juice, soda, iced tea or milk.