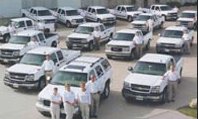 Lawrence & Topeka Roofing, Inc. opened for business in April of 1998 under the direction of owner, Mark Eaton. We cover nearly two-thirds of the State of Kansas with additional locations in Salina and Wichita. Each roofing project is supervised by an experienced superintendent who assures that the work is completed according to manufacturer and local code specifications
We specialize in several different roofing materials. Our crews are experienced in wood shake; all styles of composition and laminates; all makes of tile, including concrete, clay and light weight; and all styles of flat roofing materials, such as built-up, modified, metal and roof coatings. Our crews have completed well over 4,000 re-roofs during our existence.
In October 2005, we had the amazing opportunity of being chosen as the General Contractor to lead Project 312 for the Extreme Makeover: Home Edition, as seen on ABC. What an honor, but also a huge challenge to complete that home in five days. To see the final build, click on the Extreme Makeover logo on our home page or go to ABC.com. Click on Extreme Makeover Home Edition and locate the photo gallery for season 3, build #12 featuring the Nutsch family.
We are fully licensed and insured. We provide written warranties for workmanship and lien waivers are issued at request. We are pleased to be considered for your roofing needs, whether that be a small repair job or a complete re-roof.