Visit website 5005 Legends Dr., Lawrence, KS 66049 Open today until 6 p.m.
About Us / Lawrence Montessori: Our Infant Community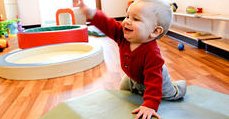 Read all about our Infant Community here.
At Lawrence Montessori School, we observe, guide and nurture each infant and toddler lovingly and communicate with the parents daily on the child's growth and development. Each child follows a daily routine based on her/his natural development. Children who are tired can rest or sleep whenever they need to while others may be awake and happily engaged in purposeful activities. There is no "by the clock" activity, nap or eating routine in the Infant/Toddler community. Each child is nurtured at her/his pace and rhythm. We follow the child.