Visit website 5005 Legends Dr., Lawrence, KS 66049 Opens today at 7 a.m.
About Us / Message from the Head of Lawrence Montessori School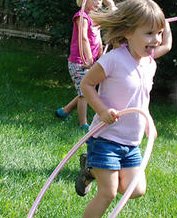 Lawrence Montessori School would like to extend a warm welcome to you and your family. Our vision is to provide your children with an education as an aid to life and instill a lifelong love of learning in accordance with the principles of Dr. Montessori.
Celebrating over a hundred years of pedagogy, the Montessori Method has educated millions of students around the world to become creative, confident, compassionate leaders, and citizens of the world. Our children are our future leaders and we will give them every opportunity to thrive in an environment of peace and harmony, intellectual wonder, and instill in them integrity and strength of character. We will nurture the intellect and the spirit of our children honoring their uniqueness and individuality with self-directed learning.
We invite you to visit our wonderful new school with a natural outdoor playscape that offers many possibilities for outdoor play and curiosity. Please observe the wonderful work our children do daily and see firsthand the Montessori Method in action!
Sincerely,
Purviz Birdie Head of School Lawrence Montessori School