Visit website 1805 E 19th St, Lawrence, KS 66044 Opens Sunday at 11:30 a.m.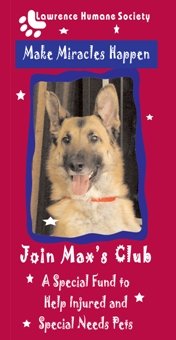 Max's Club -- A Good Shepherd for Shelter Animals! This club was founded to raise funds to help injured and ill companion animals whose medical costs exceed the normal financial means of the Humane Society. This special club is named in honor of a beautiful German Shepherd, Max, who came to the shelter terribly ill and starved, with little chance to survive. No one could give up on Max, no matter the costs, and staff and friends chipped in to save him. From this came Max's Club, which each year saves many shelter dogs and cats who otherwise had no chance.
Call us at 785-843-6835 to learn more or to become a member of Max's Club. More information is also available on our website (click below on "More on this product").