Visit website 2632 Knollbrook Ct, Lawrence, KS 66046 Open by appointment
What We Do / Kanzana Adaptive Outdoor Recreation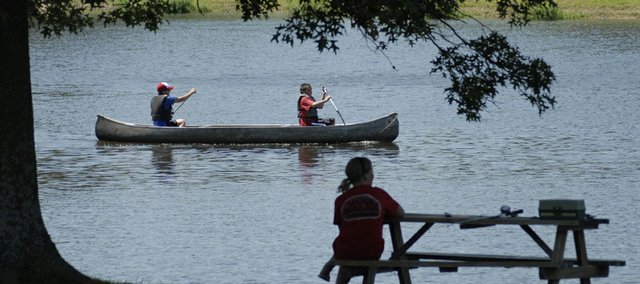 Canoeists enjoy a summer paddle on a lake at at the Amazing Grace Bible Camp near Ottawa
The Sunflower State, with its wide open spaces in rural areas, has plenty to offer in the way of nature for those wanting to escape for a relaxing day or weekend in the outdoors.
Plan your trip
Some helpful Web sites: • The Kansas Department of Commerce has a trip planner with "ready-made adventures," www.travelks.com="www.trave...> • The Kansas Department of Wildlife and Parks, www.kdwp.state.ks.us/ • The U.S. Army Corps of Engineers, Kansas City District, www.nwk.usace.army.mil/index.cfm • The American Discovery Trail Society, www.discoverytrail.org
There are sites across the state for birders, boaters, hunters, fishers, hikers and campers.
"Kansas has a lot of natural beauty. You have the opportunity here with public lands to get in touch with nature," said Bunny Watkins, park manager at Perry Lake.
The travel and tourism division of the Kansas Department of Commerce promotes the natural tours and other hot spots, especially because these types of attractions often allow nature lovers to go at their own pace