1101 W 27th St, Lawrence, KS 66046 Open by appointment
Products / Concrete Siding Services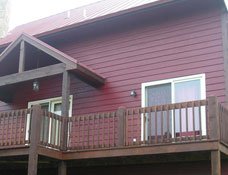 Kaw Valley Decks offers concrete and cement siding installation. We use the best siding products to ensure your home's exterior is protected for years to come.
Siding Contractor
Sales & Installation
Residential & Commercial
Hardiplank Concrete Siding
Trim & Soffits
Siding Removal & Replacement
EPA Certified Lead Removal
Free Estimates
We use only the best products and materials on all siding replacement jobs. If you are located near Lawrence, Kansas and it's time to replace your siding, give us a call.
Call Us Today For A Free Estimate!