Visit website 1019 Massachusetts Street, Lawrence, KS 66044 Opens today at 9 a.m.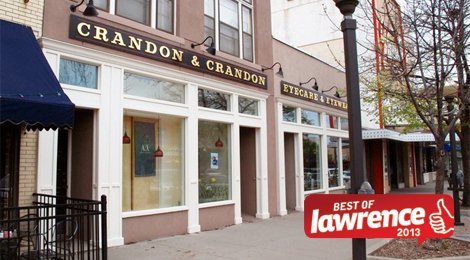 Details
We are a full scope optometric practice, located in the heart of downtown Lawrence, dedicated to providing the highest quality vision care to children and adults in a friendly, comfortable, and professional atmosphere. With a highly trained staff and state of the art equipment, we go beyond 20/20.
Comprehensive Eye Examinations for All Ages, including Infants and Preschoolers
Eyewear Designing and Dispensing
Contact Lens Fitting and Follow-up, including Bifocal, Disposable and Astigmatism Lenses
Treatment of Eye Diseases and Co-Management of Surgery
Vision Therapy for All Ages
This business appears in: Featured Downtown Businesses, Health Care, Areas of Practice, Doctors & Clinics, Eye Care
Business affiliations
Reviews
Rating: 5
Friendly staff, fast - accurate - thorough. Brent was my doc and he was great. Looking forward to my frames and fully recommend.