Visit website 930 Iowa Street, Lawrence, KS 66044 Opens Monday at 8 a.m.
Photos / Dr. Lee Bittenbender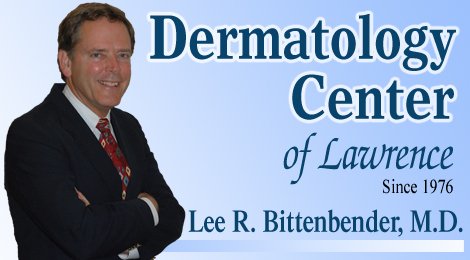 Dr. Bittenbender is Lawrence's only dermatologist certified by the American Board of Dermatology and has been in practice in Lawrence since completing residency at the University of Iowa in 1976. He keeps current in his knowledge by maintaining a Continuing Education Certificate from the American Academy of Dermatology which requires a minimum of 150 hours education every three years.
• Certified by American Board of Dermatology
• Fellow American Academy of Dermatology
• Fellow American Society for Dermatologic Surgery
• Past president Kansas Dermatology Society and Kansas City Dermatology Society
• Serves on advisory boards for pharmaceutical companies
• Gives continuing education lectures to physicians and other health professionals
The Dermatology Center of Lawrence offers a wide range of dermatological services including cosmetic procedures such as:
• Botox treatment for wrinkles and excessive sweating
• Restylane and collagen treatments for wrinkles
• Spider vein treatments
• Laser hair removal
• Microdermabrasion
Dr. Bittenbender is an expert and experienced in the removal of moles, skin cancers, and growths of the skin as well as treating conditions of the hair, nails, and skin.