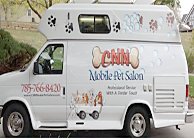 My name is Calli Noller and I am the owner and the groomer for my CNN Mobile Pet Salon. You will always know who is caring for and grooming your dog because it will always be me. I was trained as a professional mobile groomer by Barbara Szefc who has owned and operated successful mobile grooming businesses in both LaFayette, Louisiana and Lawrence, Kansas. I purchased Barbara's Lawrence buisness Happy Handsome Hounds in 2011.

I grew up in a home with five Labs - two Yellow, two Black and a Chocolate. My first dog Willis is a 90 pound Yellow Lab who lives with my parents because he requires a large back yard. Since I could not dream about living without a dog I adopted a shelter puppy named Chance who will hopefully be half the size of Willis. Suffice it to say I love dogs and will always treat your dog with the same love and respect that I treat my own.
My goal is to provide a professional and loving spa experience for your pet. I welcome your input on specific requests for your dog, as well as feedback on what you and your pet would like in the future. I will always strive to provide a stress free experience for you and your pet.