Visit website 4525 W 6th St , Lawrence, KS 66049 Opens today at 9 a.m.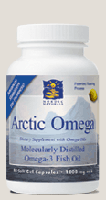 Nordic Naturals Arctic Omega is a pure and great tasting source of EPA and DHA. These omega-3 fatty acids are essential for growth and development throughout the human life cycle.

*All Nordic Naturals products surpass all national and international pharmaceutical standards for freshness and purity, and are free from heavy metals, dioxins, and PCBs. Every batch is third party tested to guarantee exceptional freshness and purity levels.
Suggested Use: Two soft gels daily, with food, or as directed by your health care professional or pharmacist. Consult with your physician before using this product if you are pregnant, diabetic, allergic to iodine, using blood thinners, or anticipate surgery.
*This product comes in a bottle of 90 soft gels and has a lemon flavor