Visit website 609 New Hampshire, Lawrence, KS 66044 Opens Monday at 7:30 a.m.
Services / Bill Self: At Home in the Phog $24.95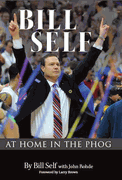 Get the full story on KU's 2008 National Championship in Bill Self's first authorized book, Bill Self: At Home in the Phog. Self and those who know him best offer an inside look at his journey into becoming one of the game's most respected and most sought-after coaches. He describes his life-long dream of becoming a head coach, offers minute-by-minute thoughts during momentous games, and recounts the contest that sent KU to the national title game. Join Bill Self as he offers his insight into one of the greatest national championship comebacks ever!