Visit website 10823 Shawnee Mission Pkwy, Shawnee, KS 66203 Open today until 6 p.m.
Auto Repair / Cooling System Maintenance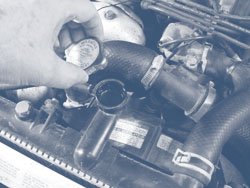 What Our ASE Certified Technicians Do
The following components are inspected. Their condition is recorded and compared to manufacturer's specs. Recommendations are made per the Motorist Assurance Program Uniform Inspection Guidelines:
Coolant (Antifreeze)
What is it? The most common formulation of antifreeze is green in color and uses ethylene glycol as a base with anti-corrosion additives mixed in. The ethylene glycol part of the formula provides crucial anti-freezing characteristics and the additives deliver the anti-rust and anti-corrosion capabilities. Beginning with 1995 models, most GM vehicles started coming from the factory filled with an extended-life antifreeze, trademarked as DEX-COOL®. Distinctively different in appearance, DEX-COOL®, and its aftermarket equivalents, is an orange/amber color. It still uses ethylene glycol as a base, but contains a different additive package than standard green-colored antifreeze. Other antifreeze formulations include silicate-free for Japanese cars and phosphate-free for European cars.

What does it do? When properly mixed, antifreeze and water provide excellent anti-freeze, anti-boil and anticorrosive properties.

Maintenance Tips/Suggestions Check your owner's manual for antifreeze usage specifications. Antifreeze, when mixed at a 50/50 ratio with water, provides excellent anti-freeze, anti-boil, and anti-corrosive properties. Although DEX-COOL® type antifreeze can be mixed with standard ethylene glycol antifreeze, it's best not to mix antifreeze types unless absolutely necessary. All coolants must be diluted with water at the proper ratios and should not be used full-strength. Full-strength antifreeze actually has a lower freeze point than when mixed with water. Generally, standard ethylene glycol type antifreeze should be changed every two years or 24,000 miles. Even though the coolant freeze protection may test OK with a hydrometer (freeze protection only drops with extreme dilution, not with age), the additives break down over time. When changing coolant, it also presents an opportune time to replace bad cooling system hoses. Leaking, brittle, spongy, cracked, or rotted hoses should be replaced before new antifreeze is installed. Hose clamp connections should also be checked to ensure that they're secure and free from leaks.