All precincts reporting / 96,070 total votes / Unofficial results
Completed candidate chats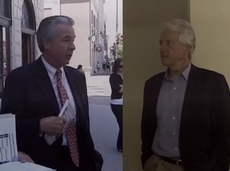 Associated Press
August 30, 2008
The results of the primary earlier this month became final and official Friday, showing that turnout was higher than expected.
J-W Staff Reports
August 6, 2008
Former Rep. Jim Slattery had little trouble winning the Democratic Senate nomination in Tuesday's primary. But his race this fall against Republican Sen. Pat Roberts is likely to give Slattery fits.
J-W Staff Reports
July 31, 2008
As of Wednesday, 818 advance votes had been cast or mailed into the Douglas County Clerk's office for Tuesday's primary election.
July 30, 2008
The campaign of U.S. Sen. Pat Roberts, R-Kan., said Wednesday he would give to charity nearly $20,000 in contributions he has received from indicted U.S. Sen. Ted Stevens, R-Alaska.
July 25, 2008
In the race for the US Senate, two men are looking to challenge incumbent Pat Roberts. 6News reporter Lindsey Slater sat down with the two Democratic challengers looking to take over in Washington D.C.
J-W Staff Reports
July 25, 2008
Elections officers said Thursday that the first week of advance voting before the Aug. 5 primary election has been relatively busy.
July 21, 2008
Today is the last day to register to be eligible to vote in the Aug. 5 primary election in Kansas. The Douglas County Clerk's office at the courthouse, 1100 Mass., will be open until 7 p.m. today to accept registration applications for county residents.
J-W Staff Reports
July 17, 2008
July 16, 2008
Douglas County's chief elections officer is optimistic that several contested races in the Aug. 5 primary election will boost voter turnout. Advance voting begins today at the Douglas County Courthouse, 1100 Mass. The county's turnout was 12 percent during the 2006 primary. But a GOP showdown is in store between former Congressman Jim Ryun and State Treasurer Lynn Jenkins and two party primaries in each Douglas County Commission race might draw more people to the polls, said Douglas County Clerk Jamie Shew.

Find more businesses on Marketplace
Arts & Entertainment · Bars · Theatres · Restaurants · Coffeehouses · Libraries · Antiques · Services
Blog: Iowa firm likely to create about 20 jobs at Lawrence foam manufacturing plant; Breezedale markers getting restored; Housing Authority seeks to buy apartment building

May 22, 2015 · 33 comments

Commissioners support new building codes policy, say Kobach did not get special treatment; others not so sure

May 23, 2015 · 18 comments

Kansas universities lack firm plan for concealed guns on campus, making some anxious

May 23, 2015 · 13 comments

Blog: Doug Compton's latest project and the debate over downtown parking; high tech traffic solutions presented to City Hall

May 20, 2015 · 40 comments

Letter: Socialistic move?

May 23, 2015 · 10 comments

Haskell suspends football program, possibly others, to cut costs

May 21, 2015 · 41 comments

Editorial: Voter hammer

May 24, 2015 · 10 comments

Labor department reports weak job growth in Kansas

May 22, 2015 · 21 comments

Opinion: Writers miss point on police violence

May 21, 2015 · 63 comments

As rare cicadas begin to emerge, KU researchers, students examine the insects

May 24, 2015 · 1 comment