Also from April 29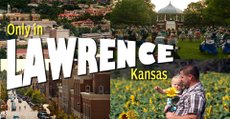 They are parents, friends, neighbors, mentors and heroes. Our 2012 ...
What do you think of the city of Lawrence's decision to rename part of Missouri Street "Fambrough Drive"?
Poll results
Response
Percent
Like the idea
76%
Don't care either way
14%
Don't like the idea
9%
Total
892
Who do you think will have a bigger breakout year in 2012-13?
Poll results
Response
Percent
Elijah Johnson
66%
Jeff Withey
24%
Undecided
9%
Total
1625
Lead stories
10:00 a.m.
Renamed streets honor memory of Fambrough

By Chansi Long
April 28, 2012
2:00 p.m.
By Andy Hyland
April 29, 2012
10:00 p.m.
All stories