Also from April 20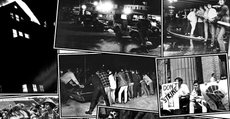 Forty years ago today, the Kansas Union burned. What followed ...
Mark Twain died 100 years ago Wednesday. Which is your favorite Twain book?
Poll results
Response
Percent
The Adventures of Huckleberry Finn
37%
The Adventures of Tom Sawyer
24%
I haven't read any of Twain's books
13%
A Connecticut Yankee in King Arthur's Court
7%
Other
5%
Life on the Mississippi
4%
The Prince and the Pauper
3%
Roughing It
2%
A Tramp Abroad
1%
Total
665
Lead stories
10:00 a.m.
Bair urges financial reform

By Chad Lawhorn
April 20, 2010 in print edition on 1A
2:00 p.m.
All stories