Visit website 1387 N 1300 RD, Lawrence, KS 66046 Opens today at 8 a.m.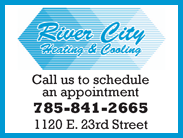 Keep your heating and cooling systems running their best, save energy, save $$$, and prevent early breakdowns with a River City Heating and Cooling Planned Maintenance agreement.
By signing up for a planned service agreement, you will receive planned maintenance and tune-ups. And we will check periodically as described below for your air conditioning and/or heating equipment during the term.
Each tune-up will include:
Cooling • Lubricate all moving parts where necessary • Check operating pressures • Check starting capabilities • Check and clean condenser coil • Check safety controls • Check air filters • Check and adjust blower components for summer use • Check for correct air flow • Check thermostat calibration • Check all electrical connections • Check for proper temperature difference • Check voltage and amperage on motors • Clean condensate drain
Heating • Lubricate all moving parts where necessary • Check burner operation, adjust if necessary • Check heat exchanger • Check safety controls • Check air filters • Check flue for proper drawing • Check temperature rise through furnace • Check fan and limit control • Check for proper combustion • Check gas line and manifold pressures • Check pressure regulator • Check and adjust blower components for winter use • Clean furnace cabinet
Additional Benefits • Improved efficiency • Extend Equipment life • Improved capacity • 10% discount on all repair parts and labor • Priority customer • Inflation Protection • Agreement remains with equipment but is transferable to new owners. • Agreement is non-refundable