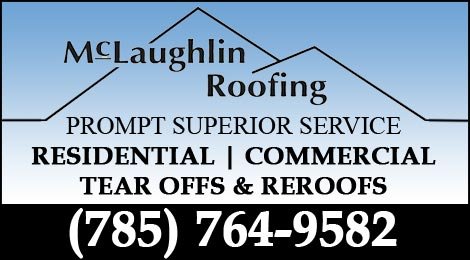 Reviews
Rating: 5
Fast, Professional, and Most Affordable in Lawrence. I've had McLaughlin Roofing out for two roofs now and I couldn't be more impressed. The price (for the exact same shingles) was better than any of the other legitimate roofers here in town. These guys are fully insured and meet all codes and requirements for license and this is a Big Deal. Since Lawrence as I just found out does not currently require licensing for roofers some of the smaller operations out there don't have to meet any specific code and don't have to carry insurance--which is a huge risk for us homeowners. But most importantly--the roof looks great! I've talked to several other people who have used McLaughlin and everyone has had only positive things to say. They got to this roof super quick, knocked it out fast, and cleaned up so well that you would never ever know they had been there...Thanks Dave and everyone at McLaughlin! Feel free to send me a message and I'm happy to give you a more specific reference or let you come take a look at the roof...
Rating: 3
Around May of this year I hired McLaughlin to replace my roof that had hail damage. I felt his price was fair and they were prompt to start the job and finished in one day. I do feel he sub-contract the work to a group of hispanics from Topeka who are very hard working, honest and polite. The new roof they put on looked top notch and they spent a good amount of time making sure they picked up every nail and pieces of debri from the old roof.
With that being said I recommended McLaughlin Roofing to my brother-in-law around July. McLaughlin Roofing returned my brother-in-law phone call but never showed up the following week like he had said he would. My brother-in-law hired a different roofing company.
Around August I again recommended McLaughlin Roofing to a friend who lived out in the country. He needed a new roof on his house and barn. He hired McLaughlin Roofing and to my knowledge was pleased with their work. Around September I again recommended McLaughlin Roofing to a friend of my wifes. Last word I had was that she was still waiting for McLaughlin roofing to return her phone call she had left with their company.
After hearing that McLaughlin Roofing had failed to return her phone call, I decided to get involved and inquire why they have had such a difficulty in returning her phone call. Well it has been almost three weeks and I've called their anwering service twice and McLaughlin Roofing has yet to return my phone call. What concerns me now is that my new McLaughlin Roof on my house has a five year warranty with their company. What good is the warranty if the company won't return your phone call.
I've contacted one of their roofing suppliers to see if they have gone out of business. I was told they were still in business.
To hire this company would be a coin toss because they forgot about Customer Service.
Rating: 5
If you need a roof these are the people to call. It's a big job and a substantial investment. Dave brought out several samples and spent some time going over what would be done. Communication was excellent and they showed up when they said they would. Great job on the cleanup and the roof looks great. Give them a call. You won't be sorry!