Visit website 1112 W 6th Street, Suite 216, Lawrence, KS 66044 Opens Wednesday at 8 a.m.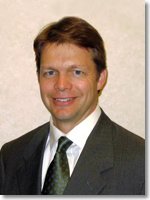 Lee A. Reussner, MD, Director of the Kansas Voice Center, obtained his undergraduate and medical degrees from the University of Kansas. He completed his otolaryngology training at the University of Rochester in Rochester, NY, and is board-certified by the American Academy of Otolaryngology. He is a member of the Voice Foundation and is an Assistant Professor at the University of Kansas Medical Center where he directs the laryngeal laboratory. Being a music-lover, he is also serving on the Board of Directors of the Wichita Grand Opera.
Dr. Reussner's practice encompasses a variety of ear, nose and throat disorders, with focus on care of the voice and head and neck surgery, including cancer and thyroid disease. He is able to offer the latest minimally invasive surgical approaches for parathyroid surgery as well.
• Board-certified, American Board of Otolaryngology • Post-graduate training, University of Rochester • Doctor of Medicine, Kansas University Medical Center • Bachelor of Arts, The University of Kansas