Visit website 318 Crimson Ave, Baldwin City, KS 66006 Opens Sunday at 10 a.m.
Products / STIHL Construction Tools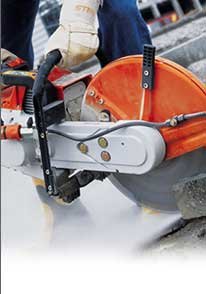 STIHL Portable Power Tools...used and respected on job sites everywhere. Talk to any professional who makes a living with his tools, and chances are his equipment line-up includes one or more STIHL products. His experience with STIHL probably began with a chain saw. Because the same kind of quality engineering and innovative technology that goes into all of our products started with a chain saw nearly 80 years ago. Just one reason why STIHL cut-off machines are number one worldwide. Today, STIHL Cutquik® cut-off machines and earth augers use the same, proven 2-cycle engine technology that has made STIHL chain saws the world's leading brand. They're part of an ever-expanding line of portable power tools that are used and respected on job sites throughout the world. When the cutting gets tough...that's where you'll find STIHL Cutquik® cut-off machines.