Engagement
Matthews and Boeck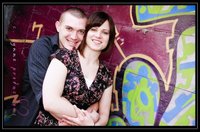 John Matthews, St. Louis, announces the engagement of his daughter, Emma Matthews to Nolan Boeck, both of Lawrence.
The future bride is also the daughter of the late Rosemary Menke. She is a 2005 graduate of Parkway West High School in St. Louis, and earned a bachelor's degree in ceramics from Kansas University in December.
The future groom is the son of Randy Boeck, Omaha, Neb., and Lena Little, Tucson, Ariz. He is a 2002 graduate of Canyon Del Oro High School in Tucson, and the manager of Wheat State Pizza in Lawrence.
The couple plan an April 9, 2011, wedding in Lawrence.
Anniversary
Petersilie
Art and Ethyl Petersilie, Lecompton, celebrated their 60th wedding anniversary with family on Friday at the Topeka Steak House in Tecumseh.
Art Petersilie and Ethyl Rainbolt were married Feb. 18, 1951.
They have five children, 11 grandchildren, and six great-grandchildren. ഥ
Wedding
Barker and White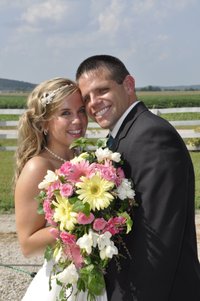 Sommer White and Chad Barker, both of Lawrence, were married Aug. 7, 2010, at Victorian Veranda Country Inn in Lawrence, with the Revs. Ron Channell, Joseph Canfield and Chris Barker, father of the groom, officiating.
The bride is the daughter of Keith and Kay White, Lawrence.
The groom is the son of the Rev. Chris and Pam Barker, Lawrence.
Maid of honor was Kim White. Best man was Allen Barker. Bridesmaids were Julie White, Kira Barker, Katie White, Kara Svoboda, Katie Stohs and Kayley Hall. Groomsmen were Connor Barker, Chase White, Mitchell White, Mark Betzen, Brandon Falley and Anton Sandoval. Flower girl was Zoe White. Ringbearer was Preston Shanks.
A reception followed at the Inn.
The couple reside in Waxahachie, Texas.