Visit website 1400 Kasold Dr, Lawrence, KS 66049 Open today until 5 p.m.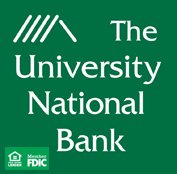 Just like carving the perfect turkey, traditional bill paying takes patience, a high tolerance for pain, and too much time. Fortunately for you, Online Bill Pay is quite the opposite. You can pay all your bills in minutes, saving time, money, stress and a giant mess.
Online Bill Pay lets you slice through all your bills in minutes with just a few simple clicks. No mess. No stress. No hungry family members getting extra cranky.
With University National Bank's Free Online Bill Pay, you can:
Choose the bills and exact amounts you want to pay Pay anyone, from the cleaning service to the gas company Schedule one-time and recurring payments in advance Know that your information is safe and secure No Service Charge associated with this product Easy to set up Stores up to 18 months of payment history Generates email alerts and notification of payment activity as directed by user Online Bill Payment is integrated with Online Banking and is access via a single logon
Click the link below to access our Online Bill pay today!