Visit website 5005 Legends Dr., Lawrence, KS 66049 Opens Monday at 7 a.m.
About Us / Lawrence Montessori: The Primary Program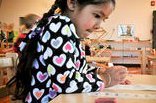 Read all about our Primary Program here.
The activities in a Montessori classroom are referred to as "work". The child is working to build and perfect him/her self using the environment as the means. Working in the present, rejoicing in it and repeating it - is the means by which perfecting begins inside the child. Each child is presented the material he or she is capable of mastering, which helps to develop self esteem and makes the child proud of his or her accomplishments.