Visit website 228 Oak St, Bonner Springs, KS 66012 Opens today at 11 a.m.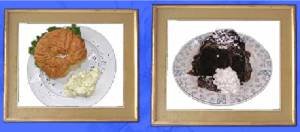 You will enjoy a delicious meal at Madame Hatter's. We do things a little differently around here. We offer a full meal which includes your Tea Beverage, Garden Salad, Entree w/ a choice of Side & Dessert. We take pride in our food and serve fresh homemade food daily.
Please click on "More on this product" below to find a more detailed description of our tasty meals!