Anniversary
Frye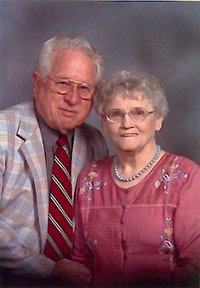 Lyle and Merle Frye, McLouth, will celebrate their 70th wedding anniversary with an open house at their home from 2 p.m. to 4 p.m. Saturday, Oct. 27.
Merle DeBoard and Lyle Frye were married Oct. 27, 1942 at the Church of the Nazarene in Newark, Ohio, by the bride's father, the Rev. F.N. DeBoard. Lyle served in the military for 33 years and the Lawrence postal service for 30 years. Merle was a die-cut operator for many years at Hallmark Cards, and a daycare operator for many years, both in Lawrence.
They have lived in McLouth for 21 years and are members of the McLouth Nazarene Church.
They have three children, Carolyn Bond, Lecompton; David Frye and spouse Debi, Oskaloosa; and Cindy Pennel, Oskaloosa; 12 grandchildren, 42 great-grandchildren, and two great-great-grandchildren.
Cards may be sent to the couple at 406 E. Lucy St., McLouth, KS 66054.
Anniversary
Carr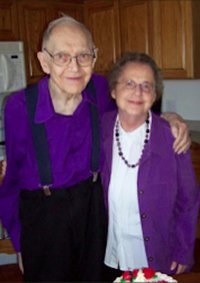 An open house reception is planned at First Christian Church in Lawrence on Sunday, October 28, from 2:30 to 4:00 PM to celebrate the 50th anniversary of Victor and Carol Carr. Victor Carr and Carol Soendker met while attending an adult Sunday School class, and were married October 20, 1962, in Kansas City, Missouri. They moved to Lawrence in 1964.
Victor was employed as a printing pressman at Allen Press and Meseraull Printing, Lawrence, and at Mainline Printing, Topeka. He also operated his own printing and engraving business at home for over 20 years.
Carol served as Director of Children's Ministries at Plymouth Congregational Church for 10 years, followed by 10 years of service as church secretary at First Christian Church.
She was then employed by the Lawrence area office of the Department of Social and Rehabilitation Services, and received recognition for 10 years of employment in 2002.
In addition to church activities, both Victor and Carol were involved in KU international student programs for many years, and enjoyed meeting students from all over the world.
The Carrs have two daughters, Gayla Carr Schmitz and husband Mark Schmitz, and Linda Carr Pickerel and husband Mark Pickerel. Grandsons are Matthew and Alex Pickerel.
Cards and notes are welcome, and can be mailed to Victor and Carol at 230 Michigan St., Lawrence, KS 66044.