Also from June 18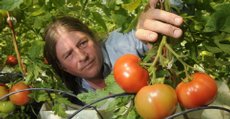 Farmers finding bigger profits by selling locally
When purchasing fruits or vegetables do you look for items that are grown locally?
Poll results
Response
Percent
Yes.
56%
It doesn't matter to me.
21%
No.
15%
I'm not sure what to look for.
6%
Total
373
Lead stories
6:00 a.m.
Kansas escapes flood conditions - for now

By Mark Fagan
June 18, 2008 in print edition on 8A
4:00 p.m.
All stories